Tank's Time Is Now
The front-woman for Tank & The Bangas talks going viral for 'DM Pretty' and the group's recent Grammy nomination.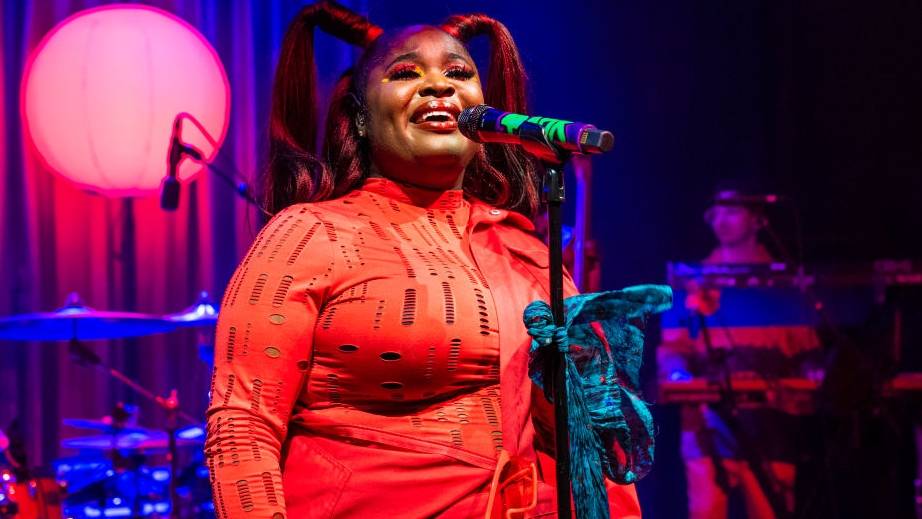 Tarriona Ball, known by her stage name "Tank," is the dynamic front-woman of the Grammy-nominated group Tank & the Bangas, and is currently experiencing a surge of popularity for multiple reasons. One of the most noteworthy of these is a recent viral moment in which she recited her poem "DM Pretty," which begins with the line "This boy be in my DMs - say I'm pretty." Through this poem, Ball aims to empower women to recognize their beauty without depending on the validation of men, as she believes that women should be able to appreciate their worth on their terms.
"A lot of times it be people that have no business being in your Dms giving compliments at two and three o'clock in the morning while their wife sleeps," Ball explained in an interview with BET. "You won't take the bait at three o'clock in the morning. How about you ask me in the hours where I can be seen in the daytime when you ask me out on an actual date and not just on some sneaky texting situation that we are in for three months?"
The opening line became popular enough on TikTok to reach No. 8 on the social media platform's trending sound list. "DM Pretty" became so popular that it was eventually released on music streaming services. The viral moment is also special for Ball as it places her love of poetry on the frontline. She says poetry loved her before music did. However, "DM Pretty" has introduced the band to a new audience.
"It's funny because my little nephews think it's the biggest deal in the world," described Ball. "They keep up with all the impressions and I'm like I'm on Barack and Michelle Obama's musical playlists. But it's so funny to see what they think is important. As it goes viral and does what it's supposed to do, I see why they see it as so important and special because it can jumpstart so many things."
Ball has come a long way from her slam poetry background to heading her first band, Liberated Soul Collective, before dwindling that down to the current line-up of Tank & the Bangas including drummer Joshua Johnson, bass/keyboard/guitarist Norman Spence II and alto sax/flute player Albert Allenback.
The group would receive their mainstream breakout moment following a 2017 NPR Tiny Desk Contest audition that went viral. Ball remembers the day they recorded the audition clip that reached nearly 1.5 million views in an art teacher friend's classroom.
"He had these big ol' desks and I just knew that we were about to go up there and do something really special," said Ball. "Did I think it was going to do that? No, not at all. But we're so beautiful and most of us so Black and comfortable and cool. I just knew that somebody was going to see it and the world was going to catch on soon."
What would happen next for the group would be nothing short of amazing from a "Best New Artist" nomination at the 2020 Grammy Awards and a handful of well-received albums including last year's Red Balloon. The genre-defying album featured guest spots with the likes of Big Freedia, Lalah Hathaway and Trombone Shorty. That doesn't even count radio skits by notables including Wayne Brady and Questlove. Tackling a range of musical styles from contemporary hip-hop, soul, jazz, spoken word, bounce, go-go, and others to perfection was a simple process for Ball.
"I think that once an idea feels really good, we just keep it," she explained. "When it feels like it's not as strong as the other ones, we put it on the stove for later on if we're all feeling the same way about it. There are probably only maybe four or five songs that didn't make the album because everything from 'Stolen Fruit' to 'No ID' to 'Heavy' all felt good."
That good feeling led Red Balloon to even receive a nomination for "Best Progressive R&B Album" at this year's Grammy Awards alongside projects from friends/peers Terrace Martin, Cory Henry and Moonchild (Tank & the Bangas were featured on that album as well).
"To me, I just love saying that on stage," explained Ball. "One of my favorite things to say when I'm on stage is I'm often imitated, never duplicated and Grammy-nominated. I've won Grammys for works I've done with Jon Batiste and Fantastic Negrito. I'm just waiting for one with Tank & the Bangas. But I got my little certificates at home though."
Beyond the music, Ball currently hosts PBS' Rituals which has her going across the Southern United States exploring various aspects of Black spirituality through rituals. Somewhere in between, she's in the middle of a tour with Tank & the Bangas. For Ball, it's just an accumulation of her New Orleans upbringing and the need to add to its rich musical history.
"The city is just full of so much and it has different worlds of music," she said. "But they all influence me in their own little way because the culture is so rich and thick. I feel really proud to be from New Orleans. I feel really lucky to be from this place and I want to add to the culture of it. I want to add to it and make it a better place.