Milwaukee Sheriff to Sharpton: Go Back to the Gutter You Came From
Milwaukee Sheriff David Clarke says Al Sharpton, President Obama and Attorney General Eric Holder "owe" Darren Wilson.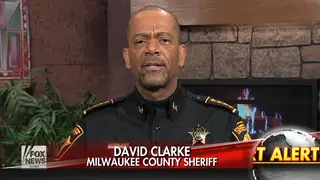 Clarke, who also is a conservative commentator, made his remarks in response to reports that the Justice Department will not charge former Ferguson police officer Darren Wilson of violating the civil rights of the unarmed teenager Michael Brown he killed last August. Now that Wilson has been "exonerated," Clarke wants to know how he will "get his reputation back."
"I don't expect anything intelligent to come out of the mouth of Al Sharpton," Clarke said. "We know he is a charlatan. Al Sharpton ought to just shut up and go back into the gutter he came from. He will not do that but the police officer is owed a lot from him, Eric Holder and the president of the United States."
Clarke also said that the Black Lives Matter movement is "predicated on a fraud."
BET Politics - Your source for the latest news, photos and videos illuminating key issues and personalities in African-American political life, plus commentary from some of our liveliest voices. Click here to subscribe to our newsletter.