Did Iggy Azalea Copy Nicki Minaj With Her New Single's Artwork?
Definitely looks familiar...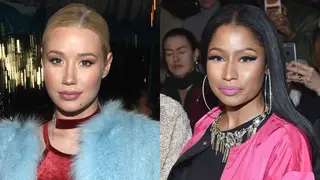 Over the weekend, Iggy Azalea revealed that she has a new single coming out this Friday (March 24). 
Along with the announcement regarding her new track "Mo Bounce," the rapper also shared the promotional artwork for the single and fans are noticing that the theme looks curiously familiar.
The visual features Azalea posing in a g-string bikini and surrounded by glitchy edits, with many pointing out that the pose is all to similar to Nicki Minaj's now-iconic cover for her 2014 smash single, "Anaconda."
While Azala looks incredible on the cover, some fans are distracted by the fact that it has an undeniable resemblance to Minaj's previous aesthetic, thus striking up the age-old Nicki vs. Iggy debate on Twitter.
While the two covers side-by-side do have their noticeable differences, the similarities between the two are all too easy to point out, with some admittedly curious as to what Minaj's thoughts would be on the matter.
Considering Minaj has been in the spotlight for her now-fizzling beef with Remy Ma, perhaps Azalea is looking to get in on the action herself.
Take a look at Iggy Azalea's recent announcement and see how fans are weighing in regarding if the cover art is merely a coincidence or an attempt at flattery in the posts below.