Damar Hamlin Makes First On-Camera Appearance Since Collapse
The NFL safety expresses gratitude for the overwhelming support since going into cardiac arrest during an NFL game on Jan. 2.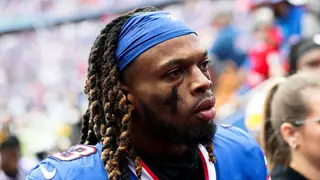 Although fans have heard from Damar Hamlin since his on-field collapse during a Monday Night Football game, the Buffalo Bills player shared a video statement on Instagram on Saturday (Jan. 28) in an aptly titled post called From The Heart.
"As I continue to make so much progress recovering, I think it's finally a good time to share a few things," the University of Pittsburgh standout said of the Jan. 2 collapse. "I think it was important for me to wait and speak publicly at the right time, as it was just a lot to process within my own self: mentally, physically and even spiritually."
Damar goes on to thank everyone for their overwhelming support. He also doled out individual thanks to the Buffalo Bills' training staff, the athletic and medical teams, and the University of Cincinnati Medical Center staff.
He also thanked his parents, Mario and Nina, "who are literally my anchor" and his 7-year-old brother, "who is my why, my reason why I strive to be my best self every day."
Hamlin, 24, suffered cardiac arrest after a collision with Cincinnati Bengals wide receiver Tee Higgins while making a tackle during the January 2 game. Hamlin was able to rise to his feet for a few seconds before collapsing to the ground. CPR was administered for nearly 10 minutes on the field before he was transported to UC medical center by ambulance out of Paycor Stadium.
"I can't tell you how appreciative I am of all the love, all the support and everything that's just been coming in my way," Hamlin said in the video. "What happened to me on 'Monday Night Football' I feel is a direct example of God using me as a vessel to share my passion and my love directly from my heart with the entire world and I'm able to give it back to kids and communities all across the world who need it the most, and that's always been my dream. That's always been what I stood for and what I will continue to stand for."
Hamlin attended his first game since his on-field emergency incident on January 15. He watched as his team defeated the Miami Dolphins.
As he watched from the skybox, Hamlin was shown repeatedly cheering on his team, making a heart with his hands, as he's recently been celebrated for doing.