Normani Claps Back At Fans Demanding An Album
In an expletive filled tweet, the singer hopefully has put an end to the new album requests.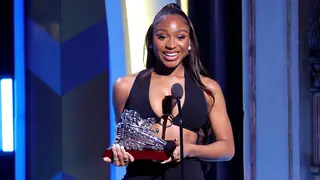 R&B diva Normani finally reached her breaking point when it comes fans asking for an album release date. The former member of Fifth Harmony took to Twitter to respond to a tweet that stated she was getting too comfortable.
So far, Normani has only released a slew of singles, and in a recent interview with BET.com, the singer spoke about the music making process and what to expect from her forthcoming album.
"You can expect a range — me being my most vocal and authentic than ever before from start to finish. There's a range from what you can hear from the records I've already put out along with the next record I'll be putting out — there's so much dimension to me as a person so I really wanted my artistry to reflect that. Sonically, I was able to experiment. I love being in the studio as my playground and production value to me is super important. As a songwriter, I've grown tremendously. With me trusting myself, you'll hear that confidence for sure," she said.
Just last year, Normani took home a Soul Train Award for "Best Dance Performance," for her single "Wild Side" and paid homage to her favorite performers including Ciara, Michael Jackson, Ashanti, and others. "[They] have paved the way for me to even have the opportunity to stand here in front of you guys," she shared.
Looks like Normani's fans need a lesson in patience.