Warren Sapp Calls Rick Ross a Liar
Hall of Fame defensive tackle says $100,000 Super Bowl bet with Rozay never happened.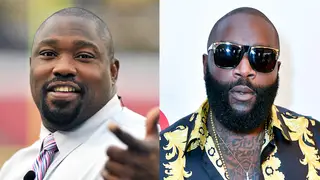 Warren Sapp says Rick Ross made up a story about their alleged $100,000 Super Bowl bet.
The alleged story had Sapp losing a $100,000 bet to Rozay over the Seattle Seahawks' victory over the Denver Broncos in the Super Bowl. The former Tampa Bay Buccaneers defensive tackle says that bet never happened.
"Ross messing with how I feed my family," said Sapp. "I can't be associated with known gamblers. I'm sitting on the stage with him cause I'm hosting a party and he's coming through. So he's yelling at me, 'Yo Sapp, I got some dudes over in Brooklyn. I'm gonna hit 'em for $100 grand on Seattle.' I'm like, 'Don't bet that Ross. Don't bet that.'"
Two years ago, the former NFL star had a bankruptcy auction to get back on his feet financially. Like Ross, Sapp reps Miami, having gone to the University of Miami before splashing onto the NFL scene with the Buccaneers in 1995. 
BET Sports News - Get the latest news and information about African-Americans in sports including weekly recaps, celebrity news and photos of your favorite Black athletes. Click here to subscribe to our newsletter. 
 (Photos from left: Al Messerschmidt/Getty Images, Eugene Gologursky/Getty Images for BOMBAY SAPPHIRE)