You Won't Believe Which 'Love & Hip Hop' Star Is Defending Donald Trump
The cast member wants him to "build the wall."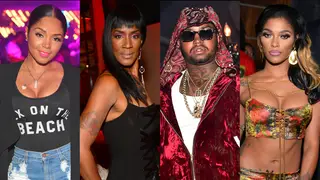 Another Black celebrity has emerged as a supporter of Donald Trump.
The president of the United States doesn't get much A-list support (he was even canceled by Kanye West), but he does have a strong base among reality stars, it seems. POTUS, who appointed Omarosa to his staff, can count one of the stars of Love & Hip Hop among his fans. The reality star voiced her unpopular opinion on a radio show this week. So who's willing to face the fire for speaking in favor of Agent Orange? Hint: she's from Atlanta.
Yep, it's Momma Dee.
The L&HH Atlanta matriarch paid a visit to celebrity publicist Domenick Nati's iHeartRadio show recently, and the topic came around to The Donald. First, Dee admitted she didn't vote: "I'm gonna be frankly honest… I did not vote and I am glad I didn't. Wanna know why? It wouldn't have counted anyway," she said. "We should have an election of just 'electoral' votes and let the United States vote… If you were going to have a vote based off of electoral votes, why would you have all of these folks get up in the morning and take their lunch breaks, get in long lines, vote early? None of it counted!"
Welp. It got worse. She then went on to say she supports Trump's immigration policy and wants him to build the wall: "I believe in his policies on immigration… I think they should pay for the wall," she continued. "Mexicans wanna come over here and make money. They come over here for every dollar; it's two or three of em'… and they come over here not paying taxes… they should pay for it."
Watch the full cringe-worthy interview, below:
 
Watch Momma Dee talk raising Scrappy in our exclusive interview, above.