Here's How 'Empire' Will Explain Jamal Lyon's Absence From The Show's 6th And Final Season
The drama's showrunner breaks it all down following confirmation of Jussie Smollett's exit.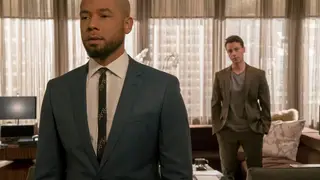 Jussie Smollett's controversial legal drama led to him being benched from Empire's sixth and final season. Considering he plays main character Jamal Lyon, his absence will be noticed by fans of the series. Now, Empire showrunner Brett Mahoney has revealed how they plan to explain his character's mysterious disappearance.
In an interview with TV Line, Mahoney explained that Jamal Lyon will be "taking a sabbatical from the family" and will thus not be seen at all throughout the season.
"He doesn't want to be caught up in Lyon family drama, which is very much in keeping with his point of view last season — that [the family business] should be something that the family moves away from," he said. "Jamal and Kai have decided to stay in London."
Fans of the show will recall that last season Smollett's character, Jamal, married his partner, Kai Givens (Toby Onwumere), in the first wedding of a Black, gay couple during a prime-time television program.
The news of Smollett's permanent exit comes months after the show's stars, including Terrence Howard, Taraji P. Henson, Nicole Ari Parker, Bryshere Y. Gray and more, wrote a letter to Fox, 20th Century Fox and Empire, asking for the embattled star to come back for season six.
Though the network claimed to be negotiating an extension to Smollett's option for season six back in April, Lee Daniels later confirmed that the opportunity was dismissed and Smollett will be excluded from the show's final season.