Wale Offers To Host 'The Ellen DeGeneres Show' Amid Her Indefinite Future
The rapper admits he's only slightly "problematic" as a choice to replace Ellen.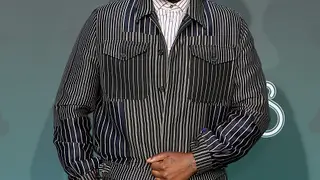 Wale has stepped forward to present his name for consideration to host the "Ellen DeGeneres Show" amid speculation that Ellen's time as host of the popular daytime talk show could be coming to its end soon.
The DMV native took to Twitter to make his desire known. Wale asked for the opportunity to prove himself and host the daytime talk show for a week to show off his range. 

"Hear me out," he began. "I'm very eloquent and loquacious. I'm only slightly problematic but TV needs a lil razzle dazzle." 

He also assured any potential producer that seriously considers his offer that his rolodex of celebrity contacts is more than solid. 

"I think I provide an informative entertaining brand of chaos day time TV deserves," the "Sue Me" rapper continued. "So again please..let me host da show."

Wale's plea comes amid reports that NBC is reportedly eyeing to replace DeGeneres after a Buzzfeed expose revealed allegations of a toxic work environment.  

In July, WarnerMedia launched a probe into the complaints about the work conditions of the daytime talk show. Under anonymity, 10 former employees and one current employee alleged that DeGeneres fostered a toxic work environment where microaggressions and racism went unchecked.

Last Thursday (July 30), DeGeneres shared an internal memo addressing the allegations, which was obtained by The Hollywood Reporter, promising to "correct the issues" expressed in the Buzzfeed report.

"As we've grown exponentially, I've not been able to stay on top of everything and relied on others to do their jobs as they knew I'd want them done. Clearly some didn't," the 62-year-old conveyed. "That will now change and I'm committed to ensuring this does not happen again."

There are rumors of other potential replacements for DeGeneres circling around, so Wale has his work cut out for him in convincing the powers that be to give him a shot. 

NBC could also take some inspiration from another one of their properties. During his pre-planned vacation, a rotating roster of Black comics have agreed to sit in for late night host Jimmy Fallon. Both Anthony Anderson and Chris Rock will host The Tonight Show with Jimmy Fallon in his place.