Fresh and Fit Podcast Hosts Blasted for Mistreating Asian Doll and Other Black Women
A resurfaced video highlights the hosts' preference when it comes to dating.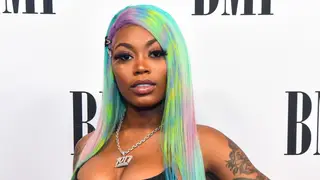 The co-hosts of the Fresh & Fit podcast, Myron Gains and Walter Weekes, are facing backlash after a verbal altercation with Asian Doll prompted the Dallas-born rapper to walk off during a recent interview.
Footage of the incident, which has since made its rounds across social media, shows Gains visibly upset and scolding Asian Doll and her friends for having a sidebar conversation during a taping of the show.
The "Pull Up" emcee, whose real name is Misharron Jermeisha Allen, promptly called Gains "mean as f**k," which appeared to annoy the podcast host further. A verbal back-and-forth ensued as Asian Doll kept calm but doubled down on her comments.
At one point, the "No Exposing" artist declared, "I can say what I want," to which Gains fired back, "Well, you can get the f**k off the show." Although another person, presumably Weekes, tried to de-escalate the issue, Asian Doll ultimately walked off.
However, things went from bad to worse for the co-hosts after an old video resurfaced of them discussing why they opted not to date Black women.
"I mean, hey bro, if you wanna date a bunch of Shanequa's, go for it," Gaines said while speaking about the dating app BLK. "Me and Fresh [Weekes] aren't really down with the brown like that, being night riders. Sometimes if they're redbone, but I mean, in general, me and Fresh don't dabble in the dark, if you know what I mean."
Regarding the resurfaced clip, Gains called out what he deems the double standard when it comes to women's dating preferences, saying, "No one bats an eye when women say they want a man that's six-feet-tall, makes a certain amount of money, blah blah blah. Those are considered preferences. But if I say, 'Hey man, I don't date Black girls like that,' then it's like, 'Oh, God! How dare you?'" the host said. 
"My mom's Black, my sister's Black, like bro, we just have a preference," Weekes inserted.
Gains later surmised if he hates Black women, why would he continue to bring Black women onto his show? When a Black woman on the panel tried to interject, he shut her down rudely, telling her, "Let me finish."
Though the podcast has been ​​described as the number one show for men to learn about women, finances, fitness, and more, many are now calling for it to be removed.
Here are some reactions below: