Karon Hylton Death: Protests After DC Man Killed In Police Chase On Moped
The 20-year-old father tried to comply with police, witnesses said.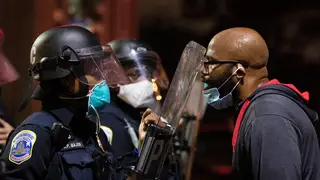 Protesters in Washington D.C. are demanding an explanation as well as police body camera footage after the death of a 20-year-old Black man. On Friday (Oct. 23) officers reportedly tried to pull over Karon Hylton for riding without a helmet but his family says the cops hit him. His girlfriend, Amaala Jones-Bey, said he was simply trying to go to a friend's house to retrieve his car keys.
"Over a moped and some car keys, he lost his whole life," Jones-Bey said, according to local station WUSA.
Witnesses say that the police chased down the father of a 3-year-old daughter, but he did try to cooperate with them.
"I saw police chasing him everywhere, for no reason. He did no violent offense or nothing," a friend, who was identified as "Arkhi," told local news website DCist. "I saw Karon stop at the intersection of Fifth Street and also ask them, 'why are y'all still chasing me?' They chased him. They chased him to death."
D.C. Metro Police Chief Peter Newsham told The Washington Post that cops are not allowed to chase vehicles for traffic violations. But he claimed that video shows no contact was made between the police vehicle and the moped.

Maureen Brown, whose sons were all friends of Hylton's, told DCist that he was the victim of police "jump outs," which is when officers literally jump out of unmarked vehicles to do questioning or searches.
They antagonize [young Blacks] to say something to them so they can get out the car. I've seen this. I've witnessed it."
On Tuesday (Oct. 27) night, a crowd of protesters gathered at the police precinct near where the incident took place saying they wanted a full report, release of body cam footage and police accountability. A spokesperson for D.C. Metro police said a report could not be released because it contained personal information about the person driving the vehicle that collided with Hylton. Some scattered protests continued in a few areas of Northwest Washington D.C.
"Please come out and talk," a woman reportedly identified as Hylton's mother said into a megaphone while in front of the precinct. "Tell me something. Tell me what the [expletive] happened to my son."
Another friend of Hylton's, identifying himself as "Marcus G" told DCist that Hylton was a "fun, joking and happy person" who was working on getting his GED and wanted to be a firefighter.
"Me and him spoke about making it out of the neighborhood, out of our community," he said. "He had a plan. He would just take time to execute."