Pride Month 2022: 7 Artists Who Are Slaying The Game
These voices have changed the genre and are actively trying to make it more inclusive.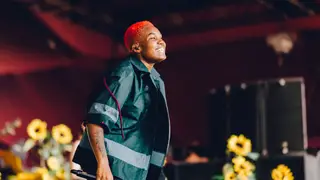 It's June, which means it is Pride Month, and there's so much to be celebrated. Little by little, there's so much progress within the LGBTQIA+ community, and it's no secret that queer and trans folx have influenced so much in Hollywood and music. From choreography to the vernacular used in everyday conversation, the LGBTQIA+ community has a strong presence in media. Periodt!
A huge milestone for the community comes in the form of two queer artists who are now unapologetically themselves while succeeding in the mainstream. Lil Nas X continues to push the envelope with every music video, live performance, and even the clapbacks we see on social media.
And now, we have Saucy Santana, a City Girls affiliate who embraces his femininity like no other and has been warmly embraced as soon as the world discovered who he is. The "Walk Em Like A Dog" musician recently signed a deal with RCA, proving that talent has no sexuality or gender preference… it's all about the person and the music.
As BET.com celebrates Pride Month and Black Music Month,  there are some talented queer and trans artists, in addition to X and Santana, that should be heavy on your playlist.
Without further ado, here are five LGBTQIA+ talents that should be mixed with your growing music catalog.
Durand Bernarr

Baby, the vocals are vocaling!!!! Durand Bernarr is something special to the world, and the power in that man's voice is just *chef's kiss*. 

Traveling the world with Erykah Badu and having his own EP called DUR&, the star quality speaks for itself in the music. From being a runner-up on BET's The Next Big Thing competition to gracing us with his performances on The Terrell Show, Bernarr isn't letting up on the girls any time soon.

Shea Diamond

The Cosmic Mother is well on their way to being an icon. 

With appearances on HBO Max's And Just Like That and Genera+ion and Hulu's Happiest Season, Shea Diamond has lent their voice and shows the world why they deserve to be in this space. 

And don't get us started with how the visuals are everything and then some!

SEVNDEEP

Let's talk about a future icon. Sevndeep, a well-known choreographer, is living proof that being creative has many talents and this wonderful being taps into them all. 

The dancing, the visuals, the flow, and the impact this artist has is tremendous. With hits like "Hips" and "Maneater," the musician continues to find different ways to showcase his versatility.

Arlo Parks

Hailing from London, England, Arlo Parks is a 21-year-old artist making her way to the top with her soft, sultry sounds. Already winning awards, including Breakthrough Artist at the 2021 Brit Awards, it's no question that Parks has an undeniable talent and will be here for a long time.

Ian Isiah

This genderless superstar is breaking down all the barriers, and we're here for it! Ian Isiah is making confessional and bedroom music that you can share with whomever you love. If you ever want to set the vibe with your significant other, put on one of his records and zone out.

serpentwithfeet

Join in "Fellowship" with serpentwithfeet, a rising star who shows Black queer love in the best way possible. From his beautifully directed visuals to his soft-toned vocals, fall in a trance with the Deacon artist all summer long.

Kidd Kenn

History continues in music, especially with this vibrant young star. Being the first LGBTQIA+ rapper to engage in a rap cypher for the BET Hip Hop Awards is a big deal, and now partnering with major brands like Apple and Target is a slay in itself. 

Kidd Kenn is a big deal and will show why he's here to stay!

Ty Cole is a New York-based entertainment reporter and writer for BET.com who covers pop culture, music, and lifestyle. Follow his latest musings on Twitter @IamTyCole.