Ryan Destiny Reacts To Gabrielle Union Calling Her A 'B***h': 'That Was Weird'
The 'Star' actress wasn't a favorite of the 'Being Mary Jane' star.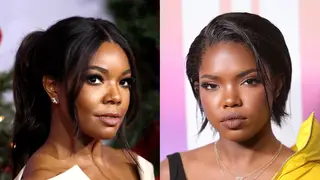 Gabrielle Union is one of the select few in Hollywood who is constantly heralded as one of the spearheaders of the "Benjamin Button committee" — a.k.a. the "Is she aging backwards?" club. However, though she's seemingly looked the same for years, that hasn't hindered her from feeling threatened, especially when up-and-coming actress and apparent Gab U. look-a-like Ryan Destiny hit the scene.
The Being Mary Jane frontwoman spoke on her internalized vitriol towards the young actress in her new memoir, We're Going To Need More Wine, and, boy, did she go there.
Get more of the actress' refreshing candor with BET Breaks, above.
In an excerpt from her book obtained by Bossip, the A-list actress admitted to being slightly threatened by the public's claim that Destiny was the "next her."
"Just the night before, I had attended a pre-Oscar cocktail party for women in film. There I had met a young actor named Ryan Destiny," she wrote. "She had appeared in the Lee Daniels series Star. I had heard that she looked like me. I saw her in person and she looks like I literally gave birth to her. Gab 2.0, only better."
She then recalled the brief exchange they had, which led to her having a not-so-polite thought about the young star, who was having a fan-girl moment after meeting the iconic actress.
"'Oh my God,' she said. 'I am finally meeting you. This is so amazing.' 'What are you, twelve?' 'Twenty-two.' 'S**t.' 'I admire you so much,' she said. 'If you could mentor me...' B***h, f**k you, I thought. You want me to mentor you?" she recalled. "The press is literally calling you the next Gabrielle Union... 'except she can sing and dance!' I smiled, and the photographers came over. They needed to document this moment of 'Look who's old!'"
Destiny has, apparently, gotten word of what Union wrote about her and spoke about the exchange with Live Civil. The Star actress claimed she was completely clueless about what Union was thinking in her head as it didn't show on the outside, whatsoever.
"That was very weird to me, weird in a good way because I didn't expect her to put me in her book, period," she said. "I remember the time that we did meet, which is the situation she was addressing in her book, and she was very nice. I wouldn't have known that she was thinking any of the stuff that she said she was thinking in her head at all. It's interesting because she was just talking to me and we were just chopping it up about what I was filming at the time... and she was just being supportive of that and she told me to push through it."
If we learned anything from this story, we now know for a fact that Gabrielle Union is now the queen of the pokerface.