Report: Child Services Is Dragging Rob Kardashian And Blac Chyna To Court Over Concern For Baby Dream
Apparently, drugs are involved.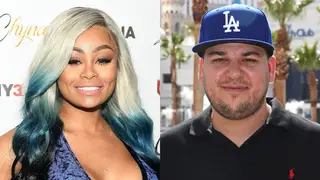 Things just got real in the child custody dispute between Blac Chyna and Rob Kardashian.
Questions about the safety of their 10-month-old daughter, Dream Kardashian led to the Los Angeles County Department of Child and Family Services getting involved.
According to TMZ, DCFS launched an investigation into Chyna's parenting skills due to reports of her alleged drug abuse before her split from Kardashian. A motion has been filed to get a judge to determine whether or not the tiny tot is living in adequate conditions.
This isn't the first time Rob and Chyna have had the courts involved. Chyna was granted a restraining order against her ex over the summer after he posted intimate pictures and videos of her at the height of their split.
While the current status of the DCFS investigation has not been disclosed, all appears to be well in Chyna's world. The newly single mom recently celebrated her daughter's 10-month birthday over the weekend.
Full of dancing and face painting, Baby Dream and her big brother, King Cairo appeared to be in good spirits at the celebration.
Sadly, we all know that what happens on the 'Gram isn't always true to real life, and these two clearly have a lot of stuff to work out for the sake of their baby girl.