NeNe Leakes: "I've Always Wanted to Be an Actress"
The New Normal star talks her sitcom plus drama from her Real Housewives of Atlanta castmates.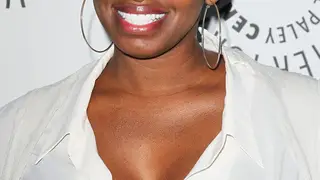 NeNe Leakes has officially crossed over from reality television star to actress on a scripted sitcom. This season, Leakes stars as Rocky on The New Normal, which follows a gay couple that use a surrogate to start a family (check your local listings). One of NeNe's biggest fans turned out to be The New Normal and Glee creator Ryan Murphy, who hired Leakes for both TV shows and told BET.com about his latest actress discovery, "I love NeNe. I think she's very talented and hilarious."
Leakes talked to BET.com about getting a role on the show, the continued drama around her Real Housewives of Atlanta castmates and if she'll return to the reality show that made her a star.

First put inquiring minds to rest: you now star on The New Normal so does that mean you'll be leaving The Real Housewives of Atlanta?
I'm a series regular on The New Normal and I recur on Glee and I'm definitely a housewife on season five. I have three shows and I'm bicoastal now.

Glee creator, Ryan Murphy, is a huge fan of yours. Is it true you had no idea who he was?
[Laughs] It's true. I didn't know who Ryan Murphy was when I got the call. But when I found out I was having a meeting with him, I ran to the computer and Googled him. Once I saw he created all this stuff like Nip/Tuck and Popular, I got really nervous. But during our meeting, he asked me all about the Housewives, we just totally clicked and it just worked. I am very grateful for Ryan. I'm so happy that he believed in me and gave me the opportunity first on Glee and now as Rocky on The New Normal. He's great.

Tell us more about your role as Rocky. Who is the inspiration for the character?
NeNe is the inspiration. Rocky is outspoken and sassy and that's me. I'm also trying to use a little bit of my character Coach Roz from Glee. I have an acting coach who's working with me daily to help me bring Rocky to life and to find her voice and place.

Any well wishes from your RHOA cast members about your new job?
Well that's another story. [Laughs] I'm just kidding. They have all said to me they are very happy for me. But as I have said many times, I felt a couple of them were very happy for me and the others…I think they said it because it was the "right" thing to say. I didn't really feel it.

Who specifically wished you well and who didn't?
Cynthia [Bailey], Kandi [Burruss] and Phaedra [Parks] all said they were happy for me. They all said it at one time or another, even Kim [Zolciak] said it at the reunion. But are they really saying it for real? Or are they saying because it's the right thing to say? I've only truly felt the love from Cynthia. I believe that she's genuinely happy for me.
You are the breakout, most recognizable and now highest paid star on RHOA, did you ever feel any jealousy from your castmates?
I always felt like there was jealousy and I always felt people were always coming at me because I was so known. I did not want to go to work some days because I was like, "I am not the person you guys are trying to make me out to be." But when I came on the show I decided I was just going to be me, for real.  I just hoped that the fans of the show would love me for who I am and it worked in my favor.
I think one thing that makes you popular is that you're a strong woman who's not afraid to show her vulnerable side.
When I cry it's for real. I'm always like, "Please help me get my eyelashes on," because I often take them off on camera to cry. Most of the time my own family feels like I don't need anything, I'm tough as nails and I don't have any feelings about anything. They really think that I'm this super tough person. I have a tough exterior, but I get upset. I have feelings and all those things. I wear my heart on my sleeve.

Reality TV was never your plan but it gave you the stardom to achieve your goal of becoming an actress. That must be an amazing feeling.
I've always wanted to be an actress and so I couldn't be happier. Every year for New Years I write down all of my goals and dreams and put them in my Bible. At the end of the year I go and pull the paper out and check this off and check that off. So it feels really good to be living my dream. I'm honored to be doing it.

You've been known for your on camera arguments, and many Black women on reality TV are regularly featured as physically violent. What's your take on it?
There are so many reality shows on now where they want you to be crazy, the girls are just going bananas; you know how they portray brown girls. They portray us in a different type of light. I would love to be a guest on a talk show or a panel that shows women who have been on reality shows who've had success, to prove to audiences that you don't have to be a fool to become successful.

BET.com is your #1 source for Black celebrity news, photos, exclusive videos and all the latest in the world of hip hop and R&B.

(Photo: David Livingston/Getty Images)