Here's How Steph And Ayesha Curry Are Helping Children During The Coronavirus Crisis
While the NBA season is on pause, their foundation will feed hungry students in the Oakland, California school system.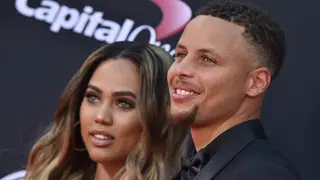 While President Donald Trump and his administration continue to be criticized for his handling of the coronavirus, the people of our country, whether celebrity or every day folks, have found ways to step up to help one another through this worldwide pandemic crisis. Two of those people now include six-time NBA All-Star Steph Curry and his wife, Ayesha Curry as the latest public figures who are committed to doing more for others. 
The duo are assisting the Oakland, California school system via their Eat. Learn. Play. Foundation to provide more than one million meals to students who are not in school due to COVID-19. 
"We know the world is changing before our eyes in terms of dealing with the spread of coronavirus and we just found out that the Oakland Unified School District is closing the doors for the foreseeable future," said Steph Curry in a March 13 Twitter video, "So, we want to intercede on behalf of the kids that rely on the daily services and try to help anyway we can."
RELATED: LeBron James' I Promise School To Expand To I Promise Village
Ayesha also added, "The statistics are really staggering. At least 18,000 kids rely on at least two meals a day from the school system, so we want to make sure that we rally around everyone and ensure that these kids are not wondering where their next meal is coming from."
Watch the video below.

The Eat. Learn. Play. Foundation will work directly with the Alameda County Community Food Bank and Oakland Unified School District to ensure every student is fed with grab and go meals.
The 32-year-old Golden State Warrior isn't stopping there. CNN reports, he "and the rest of the Warriors have also pledged a $1 million donation to a disaster relief fund for Chase Center employees who won't be working games due to the suspension of the NBA season over the coronavirus spread."
As of March 17, according to The New York Times, over 4,480 people in the United States are infected with the coronavirus and at least 86 people have died. There are over 500 reported cases in the state of California.