Could Colin Kaepernick And Diddy Get Competition From WWE Owner Vince McMahon Over The Panthers?
One former WWE employee explains why McMahon might be interested in the NFL franchise.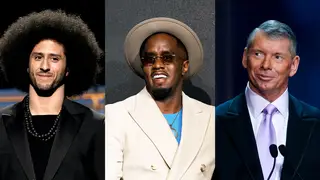 But that ownership group might have some big competition from none other than WWE owner/CEO Vince McMahon.
"Where's [McMahon's] home base? Do you know?" Coachman asked TMZ Sports on Tuesday. "North Carolina. He's got a restaurant in North Carolina. Hell, [McMahon's son-in-law] Triple H's bachelor party was in Raleigh, North Carolina."
Coachman added: "All this came down the last couple of days that P. Diddy is trying to get together a group, but yet the old crotchety owners wouldn't want P. Diddy and his crew in there, which I think would be a mistake by the owners. But Vince has legitimate money, he's a billionaire, he could come up with the funds and he's also at the age where other owners would respect that."
Watch Coachman make his full case for why McMahon might be interested in owning the Panthers below.
Do you think an ownership group led by Diddy and Kaepernick would be able to ward off McMahon if he's interested in buying the Panthers?
BET Sports News — Get the latest news and information about African-Americans in sports, including weekly recaps, celebrity news and photos of your favorite Black athletes.