Ex-Megachurch Employee Sought in Fatal Shooting
Police say one person was critically wounded when a gunman opened fire inside the chapel of a Georgia megachurch just south of Atlanta.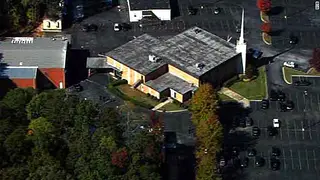 COLLEGE PARK, Ga. (AP) — A church volunteer leading prayer was shot and killed Wednesday inside the chapel of a Georgia megachurch, and authorities were searching for a former church employee suspected in the shooting.
The shots were fired just before 10 a.m. at the chapel on the campus of World Changers Church International, which says it has 30,000 followers in College Park, a suburb south of Atlanta.
The church's prominent founder and leader, the Rev. Creflo Dollar, was not at the church at the time of the shooting, Fulton County Police Cpl. Kay Lester said.
Authorities identified the suspect as Floyd Palmer, a 52-year-old former facilities maintenance employee at the church. Lester said Palmer, who should be considered armed and dangerous, had resigned from his job at the church in August.
About 20 to 25 people were gathered in the chapel Wednesday morning, when authorities say the gunman walked in and began shooting. No other people were wounded in the shooting and the gunman fled in a black Subaru station wagon with tinted windows.
"He left as calmly as he came," Lester said.
Authorities were working to determine if the suspect and the victim knew each other. Investigators were interviewing witnesses inside the church.
The victim was taken to the hospital, where he was pronounced dead, Lester said. His name was not immediately released pending family notification. He was described only as a 39-year-old volunteer and member of the church.
A few schools in the surrounding neighborhood were locked down temporarily immediately after the shooting. Afternoon services at the church were canceled, Lester said.
The 50-year-old Dollar is one of the most well-known African-American preachers based around Atlanta, with a ministry of satellite churches across the U.S.
On the church grounds, yellow tape surrounded one building. Police were not letting people onto the campus and were gradually letting members of the ministry out.
A security guard at the administrative office declined to comment as did several church employees.
Several church members walked over to the scene just after hearing about the shooting.
"Why would anyone want to hurt the church?" said Adolph Hanley, 66, of College Park, who has attended the church for two years. "That's the devil's work."
"It doesn't surprise me," Hanley said. "People don't want the real Word."


BET National News - Keep up to date with breaking news stories from around the nation, including headlines from the hip hop and entertainment world. Click here to subscribe to our newsletter.