Why Clarence Thomas Gave A Temporary Reprieve to Lindsay Graham From A Federal Subpoena Over Alleged Election Interference
The South Carolina senator asked the justice to spare him from discussing calls he made to Georgia's Attorney General after Trump lost the state.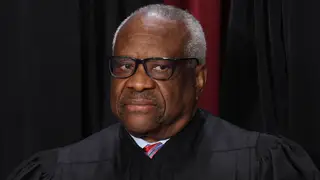 U.S. Supreme Court Justice Clarence Thomas put a temporary hold on a lower court order that would require South Carolina Republican Sen. Lindsey Graham to testify before a Georgia grand jury investigating an alleged plot to reverse the results of the 2020 presidential election.

But what was the reason for the action, which critics regard as highly politicized?
Despite Georgia voters narrowly voting for the Biden-Harris ticket by a 49.5 to 49.3 margin, Donald Trump and people acting for him insisted that Biden's win was due to electoral fraud.
As part of the Trump camp's claim that fraud, and not political will, caused his loss to Biden, Trump made a phone call to Georgia Secretary of State Brad Raffensperger. In an audio recording of that phone call, Trump is heard requesting that Raffensperger "find" enough votes to make him the presidential winner of Georgia's voters.
This phone call is part of the larger investigation into the interference of Trump and his supporters in the Georgia election. Graham, one such defender of the twice-impeached former president, has been subpoenaed regarding telephone calls he made to Raffensperger after the November 2020 election.
Graham argued that, absent action from the high court, he would soon be questioned by Fulton County District Attorney Fani Willis and her "ad hoc investigative body" about speech he claimed is protected by the Constitution's Speech and Debate clause. Graham made his request for the Supreme Court to intervene on Friday (Oct. 21). He got his wish.
Thomas' action, in which he made the decision alone without consulting the rest of the bench, is unusual. The departure from usual Supreme Court protocol, and the nature of the testimony Thomas was allowing Graham to withhold, has led to calls for his impeachment and claims that the chief justice was acting undemocratically.
Adding to the alarm over Thomas' behavior around the Graham testimony is that his wife, Ginni Thomas, was present in participating in the rally that happened before Trump supporters stormed the U.S. Capitol building on Jan. 6, 2021, and she has testified before the House Select Committee investigating the attack. Former Harvard Law School professor Laurence Tribe took to Twitter to criticize Thomas.  Saying the justice was giving the rest of the court "the finger," Tribe tweeted that Thomas' behavior is unlawful.
Thomas' Monday order, known as an "administrative stay," will allow the court time to consider the matter. Graham's appeal is expected to be decided after Thursday night.