Meghan Markle and Prince Harry Celebrate His 39th Birthday at Invictus Games
Happy Birthday to the Duke of Sussex.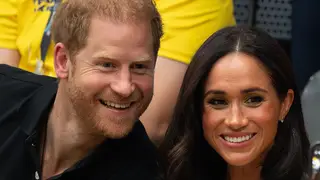 Happy Birthday, Prince Harry!
The Duke and Duchess of Sussex celebrated his 39th birthday in Germany for the sixth edition of his Invictus Games, as reported by PEOPLE. During a volleyball match between Poland and Germany, athletes and the crowd belted out "Happy Birthday."
It was a moving gesture for Harry, followed by him giving the crowd a well-deserved two thumbs up, while his wife Meghan Markle flashed a sweet smile.
Organizers of the Invictus Games also showed love to the royal with a celebratory post on social media.
"From all of us at the @InvictusGamesDE, a heartfelt HAPPY BIRTHDAY to the founder and patron of @WeAreInvictus, Prince Harry, The Duke of Sussex. You've given hope, inspired millions and never stop putting a smile on peoples faces," the organizers tweeted.
The birthday festivities kicked off early on Thursday when he and his wife enjoyed dinner at Brauerei Schumacher. The couple and their staff feasted on blood sausage and German sausages. The restaurant posted a photo of the doting couple posing with some people from the establishment as Harry locks arms with one. "Very likeable people," part of the caption read.