Kandi Burruss Defends Justin Timberlake Amidst Accusations of 'Blaccent' in Britney Spears' Memoir
The "Real Housewives of Atlanta Star" claims all the groups did it back then.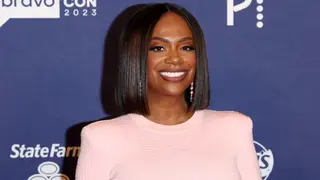 Kandi Burruss has stepped up to defend Justin Timberlake amidst accusations of using a "blaccent" in Britney Spears' recent memoir.
The "Real Housewives of Atlanta" star shared her thoughts on the matter with Page Six during BravoCon 2023 over the weekend.
Kandi  passionately defended her former collaborator,  telling the outlet, "I don't want anybody to, like, [put] down Justin because you've got to remember the times that we were going through at the time."
The Grammy Award-winning songwriter argued, "That era of pop and R&B, it was a lot of boy bands that did, like, urban music, urban routines and dancing, the whole image. That was in at the time, and nobody was passing judgment."
The industry veteran also pointed out the shifting societal norms, where actions that were once considered unproblematic are now leading to cancellations and controversy.
In her new book, The Woman In Me, Spears shared new insights into her past relationship with her ex Timberlake, including when he used a blaccent while meeting Ginuwine.
"One day, J and I were in New York, going to parts of town I'd never been to before. Walking our way was a guy with a huge blinged-out medallion. He was flanked by two giant security guards," actress Michelle Williams read. "J got all excited and said so loud, 'Oh yeah, fo shizz, fo shizz. Ginuwine! What's up, homie?'"
Spears' former assistant Felicia mimicked the "Cry Me a River" crooner, adding that "J wasn't even embarrassed. He just took it and looked at her like, 'Okay, f—k you, Felicia.'" The excerpt went viral almost immediately, garnering a wide range of reactions and jokes on social media.