The Ultimate 4th Of July Hip-Hop Playlist
We got you covered for the cookout.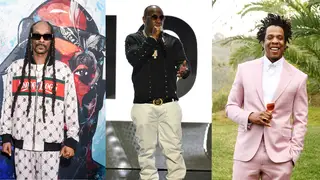 As the summer heat reaches its peak, so does the spirit of celebration in the United States. Every year on July 4th, Americans come together to for barbecues, fireworks, and music. And what better way to amp up the festivities than with some hip hop? Whether you're seeking uplifting anthems or hard-hitting beats to set off the fireworks, our Ultimate July 4th Hip Hop Playlist has got you covered. So, grab your speakers, assemble your friends and family, and prepare to celebrate.
Lil Durk Featuring J. Cole - "All My Life"

Currently the No. 1 hip hop song in the country, this banger is a must-listen with your barbecue. 

Jermaine Dupri and Jay Z – "Money Ain't a Thing"

This is a classic! JD and Jay Z took ballin' to a new level when they released this track. Quite honestly, we're not sure which was better, the video or the song!

Snoop Dogg Featuring Pharrell – "Beautiful"

Whenever Snoop teams up with Pharrell, magic happens. Not sure what it is about these two in the studio together, but it's a winning combination.

Freeway Featuring Jay Z and Beanie Seigel – "What We Do"

This smash single "What We Do," featuring Jay Z and Beanie Sigel is a Roc-A-Fella Records classic. Even though reminiscing on the old days can be a bit much, we really hope Dame Dash turns this song on from time to time and relives the glory days. 

Da Brat Featuring Notorious B.I.G. – "Da B Side"

This So-So Def/Bad Boy collaboration is timeless. Please play this song loud with your folks and just "lay on back and listen to the B-side."

Snoop Dogg Featuring Pharrell – "California Roll"

Alert! This is a sleeper track! Wake up and bump this jam on the way to the Independence Day function.

Kriss Kross – "Tonight's tha Night"

 We know what you're thinking, "How did Kriss Kross make this playlist?" Before you start hatin', listen to the production JD provided on this track.

Snoop Dogg Featuring Pharrell – "Drop It like It's Hot"

 When you read the title of the track, did you automatically start hearing the beat? Or did you automatically picture Snoop C-walkin' across a blue carpet?

Birdman – "#1 Stunna"

 In the rap game, jewelry, cars, clothes and pretty much anything money can buy are flaunted by all. So it was a BOLD statement when Birdman gave himself the title as "#1 Stunna" and proclaimed confidently on the hook of his new single. However, once we really started watching him and paying attention to his stunt game, it was safe to say the name was quite fitting.

Jay Z – "Big Pimpin'"

Jay and Dame were a dynamic duo and if you ever want to see how much fun they use to have, check out this video!

Jacquees – "Come Thru"

Birdman's prodigy Jacquees had a hit on his hands with this track.