25 Iconic Hip-Hop and R&B Albums Turning 25
In 1997, albums from Mariah Carey, Erykah Badu, Usher and more raised the bars of hip-hop and R&B.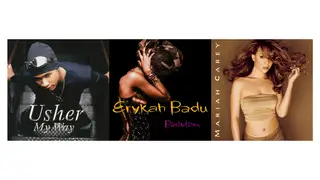 25 years ago, Black music shifted with definitive albums from hip-hop and R&B acts who have long been considered the vanguards of both genres. Hip-hop culture was flossed out with Puff Daddy and the Bad Boy Records roster introducing the "Jiggy Era," while R&B melded into an urban crossover, with rap samples and collaborations with chart-topping rhymers. For some, 1997 was the most memorable era of Black music, as Wu-Tang Clan unleashed their monumental sophomore album Wu-Tang Forever while female rap had a fresh, eccentric presence with Missy "Misdemeanor" Elliot. While fans questioned where rap and R&B were headed after the deaths of rivaled emcees The Notorious B.I.G. and Tupac, Black artists marched on, cementing 1997 as a golden year of music.
Although New York rap dominated the year, other regions got a taste of breakthrough success, with No Limit Records founder Master P holding down the New Orleans fort. At the same time, former The Fugees member Wyclef Jean gave the genre an international spin. Not to be underestimated, the force of R&B was equally admirable with progressive follow-up releases from Usher, SWV and Zhané.
In the contemporary music landscape, it's arguable that some artists stand the test of time, but in 1997, Black music was innovative, with albums including Mariah Carey's Butterfly, Erykah Badu's Baduizm and Janet Jackson's The Velvet Rope considered instant classics. Past the midpoint of 2022, BET.com looks back 25 years ago to highlight impactful releases from Busta Rhymes, Mary J. Blige, The Notorious B.I.G. and more
Street Gospel - Suga Free

Pomona legend Suga Free keeps his ear to the streets on his debut album with executive production from Compton producer and emcee DJ Quik. Recorded in 28 days, Street Gospel is Suga Free's first-hand testimonial of "Sin Town," with the rapper's humorous and trippy flow solidifying him as a West Coast rap elite.

Uptown Saturday Night - Camp Lo

The Bronx duo Camp Lo gives a nod to '70s Black culture on their underrated debut album Uptown Saturday Night. Emcees Geechi Suede and Sonny Cheeba kept their verses charismatic and tight with funk, jazz and soul samples making them a standout in the '90s rap landscape.

Harlem World - Mase

Harlem veteran Mase brought it home to 139th Street and Lenox Avenue on his Bad Boy Records breakout Harlem World. With features from mid-'90s rap-heavy hitters including Puff Daddy, DMX, Lil Kim, The LOX, Jay-Z and more, Mase kept the vibes high with simplistic bars.

One Day It'll All Make Sense - Common

By his third album, Chicago rhymesayer Common had nothing left to prove. Serving detailed wordplay and verses of Black empowerment, the rapper nabbed contributions from a pre-Miseducation, post-Fugees Lauryn Hill, The Roots emcee Black Thought, Q-Tip and then-partner Erykah Badu.

Love Always - K-Ci & Jojo

By 1997, K-Ci & Jojo took a detour from legendary New Jack Swing and R&B quartet Jodeci into their own family duo. While belting on soulful tracks akin to their first three Jodeci albums, the Hailey Brothers welcomed the new era of R&B with classics "All My Life" and "Love Ballad," a cover of the original 1976 L.T.D. song.

Anytime - Brian McKnight

On his third album, Anytime, Brian McKnight remained a staple in urban R&B. The album's titular song sees McKnight showing regret after a distressing breakup, while he looks to the possibility of reconciliation in the heartfelt ballad "The Only One for Me."

Phenomenon - LL Cool J

LL Cool J keeps it cyber-funk, rhyming with hushed vocals on the titular opener of his seventh album, Phenomenon. The introduction set the scene for the Queens legend club-hopping across ten tracks over executive production from Puff Daddy and sleek features from Busta Rhymes, Method Man & Redman, Tamia and others.

Big Willie Style - Will Smith

In 1997, Will Smith was on top of the world – and the box office – but he returned to his hip-hop roots on his debut album Big Willie Style. While the album was his first attempt at going solo after being one-half of DJ Jazzy Jeff & the Fresh Prince, Smith didn't miss a beat with hits "Gettin' Jiggy Wit' It," "Miami," "Just the Two of Us," and "Men In Black" which also appeared on the accompanying soundtrack of the rapper-actor's 1997 sci-fi comedy film.

Ghetto D - Master P

Hip-hop got a taste of the south on Ghetto D from New Orleans rapper, entrepreneur and No Limit Records founder Master P. Keeping listeners on their toes with violent recountings of his Calliope Projects upbringing, Master P also recruited his all-star 'No Limit Soldiers' including C-Murder, Silkk The Shocker, Mia X, Mystikal and Mercedes. Ghetto D single "Make Em Say Uhh!" remains a staple in southern rap, the music video featuring then-NBA superstar Shaquille O'Neal.

No Way Out - Puff Daddy & the Bad Boy Family

Four  years after the fatal passing of rap icon The Notorious B.I.G., Puff Daddy & the Family reconvened for their debut album No Way Out, paying homage to their fallen soldier. With posthumous vocals from Biggie, the Bad Boy Records roster kept the party going on singles "Been Around the World," "Can't Nobody Hold Me Down" and "It's All About the Benjamins." On Grammy-winning tribute cut "I'll Be Missing You," Puff Daddy – now Diddy – mourns Biggie's death alongside 112 and the Life After Death's widow Faith Evans.

When Disaster Strikes… - Busta Rhymes

Busta Rhymes fearlessly waved his flag as rap's lone oddball on his sophomore album When Disaster Strikes… Two albums deep into solo stardom after departing from Long Island rap outfit Leaders of the New School in 1994, Busta Rhymes transformed clubs into an apocalypse with his futuristic classic "Put Ya Hands Where My Eyes Could See."

The Carnival - Wyclef Jean

Ambitiously encompassing various sub-genres of global music on his debut album, rapper-producer Wyclef Jean honors his Haitian roots with help from the Refugee All-Stars, Fugees members Lauryn Hill and Pras and legendary New Orleans soul group The Neville Brothers. Introducing hip-hop to his home country, Jean still honors rap's New York origins, flipping production from Audio Two song "Top Billin'" on lead single "We Trying to Stay Alive."

Capone-N-Noreaga - The War Report

Two decades before hosting web series and podcast Drink Champs began, N.O.R.E. was one-half of rap supergroup Capone-N-Noreaga. On The War Report, N.O.R.E. (formerly Noreaga) and Queens-bred rapper Capone traded hard-hitting autobiographical verses while protecting the frontlines of hip-hop's New York City birthplace.

Release Some Tension - SWV

Nearly a decade into their career as R&B mavens, SWV switched up their approach on their heavily rap-influenced third album Release Some Tension. The trio made room for then-newcomer Missy "Misdemeanor" Elliott on intoxicating lead single "Can We," which also appeared on the Booty Call soundtrack, while rappers Puff Daddy, Foxy Brown, Lil Kim, Redman, Lil' Cease, E-40 and Snoop were also featured on the album.

All That I Am - Joe

R&B singer-songwriter Joe came into 1997 swinging with his heartfelt sophomore album All That I Am. Opening the album with the classic ballad "All the Things (Your Man Won't Do)," followed by eleven silky tracks without a feature in sight, making All That I Am a quintessential Joe album.

Wu-Tang Forever- Wu-Tang Clan

Although Wu-Tang Clan didn't recapture the gritty essence of their 1993 statement album Enter the Wu-Tang (36 Chambers), the sprawling nine-emcee collective remained at the apex of hip-hop on Wu-Tang Forever. With de facto leader RZA continuing his prestige as executive producer, the group's sophomore album showcased the lyrical prowess of Ghostface Killah, Raekwon, Ol' Dirty Bastard, Method Man and Wu-Tang Clan's remaining Killa Beez.

Life After Death - The Notorious B.I.G.

The Notorious B.I.G.'s second and final album was released sixteen days after his untimely murder, but it was a monumental stamp on the Brooklyn emcee's legacy. Generating critical acclaim, the 24-track double album displayed Biggie's expansive lyricism and penmanship across collaborations with The LOX, Jay-Z, Mase, Lil Kim and longtime partner-in-rhyme Puff Daddy.

Saturday Night - Zhané

Philadelphia R&B duo exuded downtown cool on their second and final album Saturday Night. Breaking out of the New Jack Swing box, members  Renee Neufville and Jean Norris-Baylor provide infectious vocals over alluring downtempo beats.

Share My World - Mary J. Blige

Mary J. Blige reinforced her "Queen of Hip-Hop Soul" status on her third album Share My World. With glossy production from Jimmy Jam & Terry Lewis, Babyface and Rodney Jerkins over MJB's powerful vocals, Share My World was the singer's first attempt at leaning into pop soul, which she successfully landed.

My Way - Usher

After the  success of his 1994 eponymous album, Usher reinvented himself and his approach on My Way, trading in once-mentor Puff Daddy for guidance from So So Def founder Jermaine Dupri. The then-teenage crooner's vocals were more poised, holding his own on the album's titular track along with singles "You Make Me Wanna," and the sensual ballad "Nice & Slow" where Usher gave "U-S, H-E-R, R-A, Y-M, O-N-D" braggadocio on the song's rap breakdown.

In My Lifetime, Vol 1. - Jay-Z

Following the death of The Notorious B.I.G., rap icon Jay-Z reinvigorated the sound of Brooklyn rap on his second album In My Lifetime, Vol. 1. If Reasonable Doubt was proof of the former Roc-A-Fella Records emcee's masterful bars, by Jay-Z's second album, he claimed the throne with more polished songcraft. The Brooklyn rapper took over The Big Apple on Blackstreet-assisted single "The City Is Mine," boasted a rich flow on "Imaginary Player" and floated on 'ladies man' anthem "Who You Wit II."

Supa Dupa Fly - Missy Elliott

Virginia-born singer-songwriter, rapper, and all-around trailblazer Missy "Misdemeanor" Elliott redirected hip-hop with her unconventional landmark debut album Supa Dupa Fly. With executive production from longtime collaborator and friend Timbaland, Elliott represented the animated side of hip-hop on classic tracks "The Rain (Supa Dupa Fly,)" "Sock It 2 Me" featuring So So Def rapper Da Brat and "Beep Me 911" with 702 and Magoo.

Baduizm - Erykah Badu

Erykah Badu ushered in neo-soul on her breezy 1997 debut album Baduizm. With delicate grooves and laid-back, organic artistry that made Badu a mainstay in R&B, Baduizm was a soulful vision, defining the genre's abstract movement.

Butterfly - Mariah Carey

While in the throes of her divorce to music executive Tommy Mottola, undisputed songbird Mariah Carey spread her wings on the fifth album Butterfly. The album was Carey's first shot at a hip-hop soundscape with production from Puff Daddy, Stevie J, Trackmasters and Cory Rooney, but the singer carried Butterfly effortlessly through picturesque anthems of yearning and resilience.

The Velvet Rope - Janet Jackson

Considered to many fans as Janet Jackson's magnum opus, on The Velvet Rope, the singer offers her most therapeutic content to date with themes of depression, sexuality, domestic violence and loss. A testimony to Jackson's maturation, The Velvet Rope allowed the singer to become free-spirited and unafraid to step into her vulnerable side.