EXCLUSIVE: 'L&HH Miami's' Shay Johnson Finally Addresses Those Pregnancy Rumors And Reveals How She Dropped 40 Pounds
"I went through a depression stage after 'L&HH Atlanta—and I just started eating everything."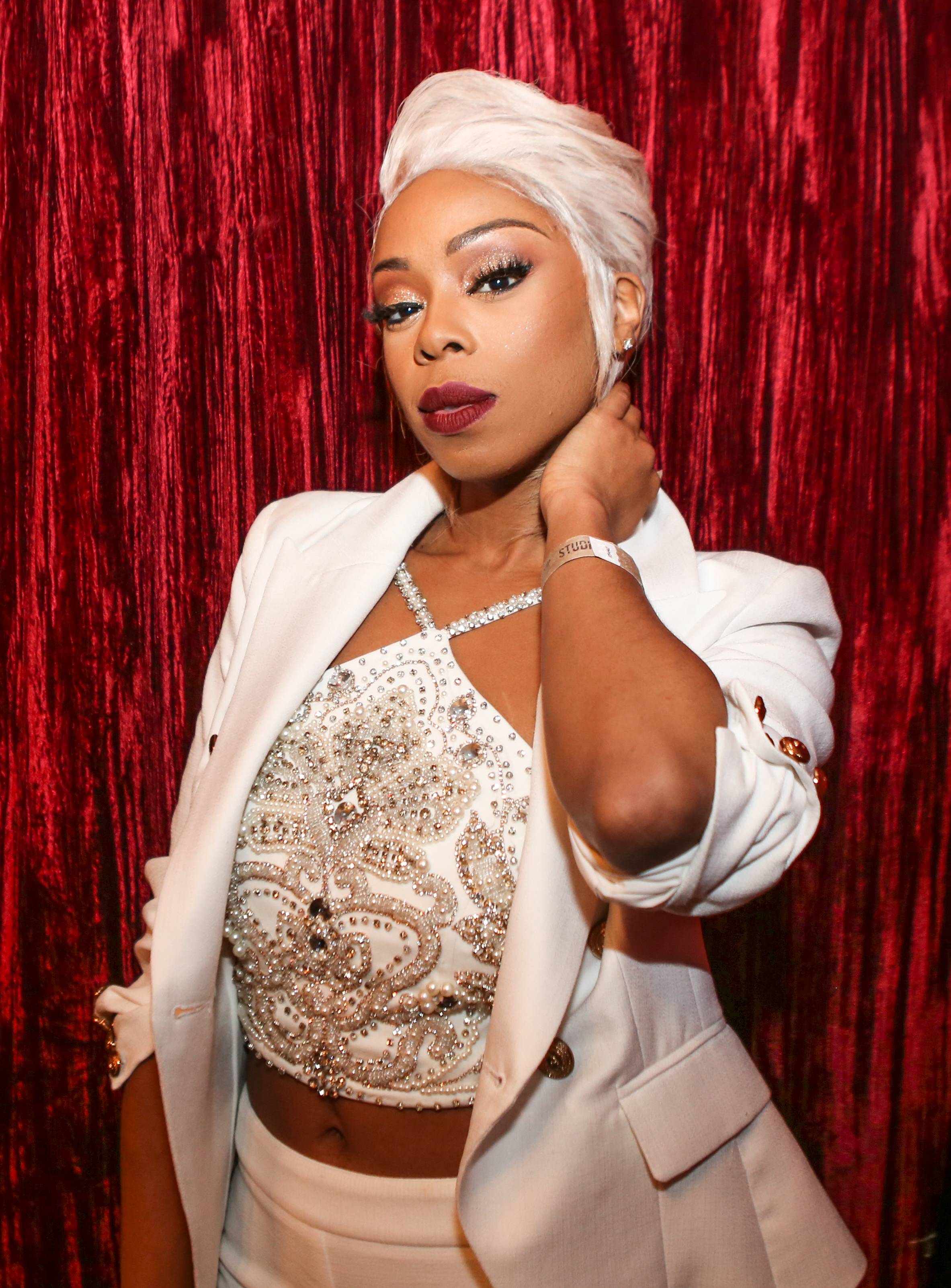 ICMYI: It's New York Fashion Week, which means the Big Apple is bursting at the seams with models and celebs. All of your faves like Cardi B, Offset, Draya Michele, Masika Kalysha and others have been making the rounds and while slaying the concrete jungle. 
We caught up with Love & Hip Hop Miami star Shay Johnson backstage at the Angel Brinks fashion show for her first-ever runway debut (p.s. she wasn't nervous!) She was coyly sitting in hair (lead by Ted Gibson) and make-up (sponsored by Mustaev) looking SUPER snatched—so of course, you know BET Style had to get all the tea.
"Well, I went through a depression stage after Love & Hip Hop Atlanta and I just started eating everything," she explained. "I couldn't fit any of my clothes. And, on a specific blog, it came out that I was pregnant, but I was never pregnant… I was just a little thicker and I wasn't happy with myself," she told us.
"I didn't like the cellulite, I didn't like the energy, so I got with a coach—his name is Derek Taylor—and I've been with him for three years. He literally transitioned my mindset first, then my body, because there was no way I could get into fitness they way that I am without my mind. He wanted me to focus on what made me depressed and I started to realize the things that made me depressed—what I thought was major—was really simple and minor, plus things that I can get over."
Now, she truly feels good about herself, and she even dived into the fitness world with @shayjfit. Shay just launched a website, an app is in the works, and she's thrilled to "motivate people who thought they couldn't do it." She plans on expanding into clothes, meal plans, belly burners—basically everything you need to start your personal journey to become healthy and fit.
In terms of her plan, Shay does it all including cardio and weights. "When I started working out, I did a lot of cardio at first because that's how I lost a lot of the weight. But, if you don't change your eating habits it's pointless. You have to start with your eating…it's what you put into your body." She avoids breads, pastas, and soda like the plague—and from the looks of it, it's paying off for girlfriend.
"In the mornings, I'll have egg whites…they say I'm a rabbit because I love salads. Also, fruit, I love smoothies—I drink those every day or every other day. For dinner, it's baked chicken and lots of vegetables. I count my calories, I do. I want to maintain my weight, I wanna be healthy, I want to live an extended life. When you're bigger, you can have a lot of health issues—and the only way you can change that is if you change your mindset…once you know 'up here' that you can do it—it's easy."
We also asked her, what exactly makes L&HH Miami better than L&HHH Atlanta. Shay didn't even hesitate, revealing "the position that I'm in for Miami, my character is able to be seen by many. I was kinda on someone's storyline (Scrappy's) so I wasn't really able to give you all of me."
"But now, I can show who I am, promote my brand, and give people a second chance to stop judging me based on an edited version of who I am from Atlanta. I'm happy to be on the show, I'm not perfect, I have my ups and downs, but I can connect and relate to a lot of people—that's why I am a fan favorite."
Finally, the haters—they are literally everywhere—and like all of us, Shay definitely reads the comments.
"Ninety-five percent of the time, actually 99 percent of the time, I don't clap back because you have to understand, when you go on television you're allowing the public to have an opinion on you. Therefore, I don't have to agree with your opinion but I will respect the fact that you have one."
"And if you get too disrespectful on MY page—I can block you! That's what I do, have a block-fest! So, at the end of the day, I'm not gonna get mad and cry…it hurts sometimes, don't think it doesn't hurt, but they're my 'fans' LOL. I say they're all 'fans.' I love the ones that hate me and that love me. As long as you're talking about me, I can probably transition your mindset to stop going so negative on Shay Johnson."
Her parting words? "It's cool, I can take it. I've been in the game a long time…since Flavor of Love in 2007. I'm an OG baby," she laughs.