Rihanna Says She's 'Open To Creating' New Music For Her Next Album
The revelation comes just days before she's slated to take the Super Bowl LVII Halftime stage.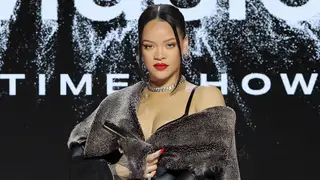 If we ever do get new music from Rihanna, it may not be too similar to what she's already released.
The Anti artist is the headlining performer at this year's Super Bowl LVII Halftime show on Sunday (February 12), and ahead of the momentous occasion, she spoke at a press conference on Thursday about her current feelings about recording new tunes.
"Musically, I'm feeling open," she said. "I'm feeling open to exploring, discovering, creating. Things that are new, things that are different, things that are off, weird, might not ever make sense to my fans, the people that know the music that I've put out.
"But I just want to play, I want to have fun," he added. "I want to have fun with music."
On the subject of her Sunday setlist, RiRi admitted that it still has yet to be decided, noting "there are probably 39 different versions of the setlist right now".
"The setlist was the biggest challenge," she said. "That was the hardest, hardest part, deciding how to maximize 13 minutes... That's what this show is going to be, it's going to be a celebration of my catalog in the best way that we could have put it together."
She continued: "You only have 13 minutes, that's the challenge, so you're trying to cram 17 years of work into 13 minutes. It's difficult – some songs we've had to lose because of that and that's going to be OK. But I think we did a pretty good job at narrowing it down."
Rihanna's last live performance was in 2016, when her most recent album Anti was released. Despite regular rumors that a new album is imminent, nothing has since been released.