André 3000 Opens Up His Social Anxiety And How That Has Impacted His Creativity
The Outkast rapper spoke with Rick Rubin on his Broken Record podcast.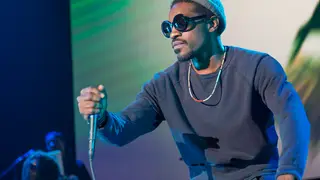 It's going on 13 years and counting since fans last heard a proper release from André 3000 as a solo artist  or as part of the hip-hop pioneering group, Outkast.
There has been persistent rumors of a fabled Three Stacks album throughout the years that has yet to materialize, beyond two one-off songs, "Me & My (To Bury Your Parents)" and "Look Ma No Hands," for Mother's Day in 2018. Fans have optimistically waited for its arrival, however, with renewed hope any time there's a rare André sighting or occasional verse feature. 
It seemed the moment that casual listeners and hip-hop heads waited for was finally here when U-N-I veteran Thurz speculated that the ever-elusive hip-hop icon was working on an album, citing that he saw Mr. Benjamin cooking in the studio with super producer Dr. Dre, no less.

It took less than a day for the rumors to spread like wildfire across social media only for Big Boi to shut them down the next day. In a new interview with Rick Rubin's Broken Record podcast (which is also increasingly rare these days), André opened up about what he's been up to and laid out  his musical process. 

The legendary lyricist explained that despite his wishes, his creative juices just haven't been flowing like they used to.

"I haven't been making much music, man," Dré told Rubin. "My focus is not there, my confidence is not there. I tinker a lot. Like I would just go to my piano and just sit my iPhone down and record what I'm doing. Move my fingers around. I haven't been motivated enough to make a serious project. I'd like to, but it's just not coming." 

During the conversation, André also shared that he was diagnosed with social anxiety and hypersensitivity disorder a few years ago, which has had an impact on his psyche. 

"There have been times where I've prayed to a God that I didn't even know existed, like, 'I'd rather you take this away from me," he revealed. "All of this, if I could just feel normal. Take the voice career, all that shit, you can have it. If I can feel normal,'" he added. "But it don't work like that."

As for why he hasn't felt that creative spark, André revealed that his massive fame has been a damper on his spirit, even going so far as to call it a "handicap" on his music-making process. 

"In my own self, I'm trying to figure out where I sit. I don't even know what I am," he said. "Maybe I'm nothing. Maybe my history is kind of handicapping in a way." With that being said, André hasn't lost his love for music yet; he's just trying to figure how to create again on his own terms.

"I'm just trying to find out what makes me feel the best right now," he said. What makes me feel the best is when I do these random kinds of instrumental things. They make me feel the most rebellious." 

Listen to André 3000's full interview below.