Hennessy Carolina Goes Ballistic On Rah Ali: 'Water Buffalo Built Ass B***h!'
This got ugly.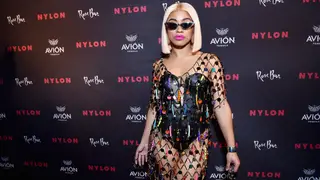 Hennessy Carolina, Cardi B's sister, Rah Ali, a friend of Nicki Minaj are battling on social media and it has gotten ugly.
According to receipts from The Shade Room, Rah Ali mentioned Cardi B in her podcast, which pissed off Hennessy. She wrote on social media, "She mentions my sister all the time when she gets on radio, she likes shady comments about my sister constantly, her two bimbo friends go on live to talk about my sister all the time on their fake ass podcast with their 500 viewers but I can't say nothing?!" 
Rah responded by saying, "Keep playing with you dumb b**ch and Ima RAG YOU like I did your sister."
Hennessy didn't stop there, she continued, "I'm not scared of none of you water buffalo built ass b**ches. You knew better than to write that sh8t that's why you deleted it!! Save that bully shit for IG and pop the f*ck out in real life."
Rah Ali clapped back with, "I didn't delete anything and you know that it's very much still there unless you deleted it. I don't have time to play on this Internet with you, you seen ya big sis when she got home. You know whats up. You next." Ali appeared to be referencing when Nicki Minaj and Cardi got into a fight and there was a knot on Cardi's forehead.
Of course 22-year-old Hennessy had another response. See the exchange below:
The two continued to attack and called each other bullies with Hennessy getting the last word by saying, "Let's cross paths now!"
Let's hope the drama is over. No one needs anymore knots on their forehead.