Maryland Man Went From Sanitation Worker To Earning J.D. From Harvard Law School
"I worked for a trash company, where my coworkers told me that I should go to college instead," said Rehan Staton.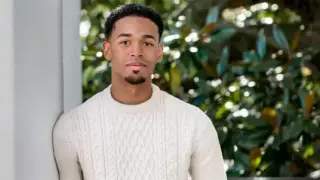 A Maryland man who worked as a sanitation worker recently earned his Juris Doctor from Harvard Law School, People reports.
Rehan Staton's hard work paid off as he walked across the stage at his commencement ceremony last Thursday (May 25) in Cambridge, Mass.
Staton's mother left home when he was in the second grade, causing his family to "run into a lot of financial insecurities" which caused him to struggle academically as a child, he said in an interview.
"There were holes in the ceilings. There was black mold festering in the basement. There were a lot of areas in the house that didn't have floors," he recalled. "It was a really bad situation."
As a high school student, Staton barely achieved a 2.0 GPA and his guidance counselors suggested that he was better suited for special education. His teachers even described him as having "low intelligence."
After graduating high school, he was employed as a sanitation worker for Bates Trucking and Trash Removal in Maryland, where his co-workers encouraged him to go back to school. Taking their advice, he eventually applied to college.
Starting his education at Bowie State University, Staton transferred to the University of Maryland, where he graduated in 2018 and was chosen to be the commencement speaker for the undergraduate class.
In 2019, he struggled with an illness so severe that he almost lost his home in foreclosure. When his father went back to work after a stroke, Staton conceived a plan to attend graduate school to improve his family's future. Less than a year later, he passed his LSAT exam and was eventually accepted into Harvard Law School.
The video of Staton's acceptance to the prestigious Ivy League institution went viral and caught the attention of Tyler Perry, who offered to pay his tuition.
While attending Harvard, Staton was invested in the community: He helped raise over $70,000 for janitors and other support staff members. He also founded The Reciprocity Effect, with a vision to "create a more holistic" community at Harvard while bridging the "disconnect between staff and students," the website states.
His former employer, Bates Trucking and Trash Removal, helped to launch the organization with a donation of $50,000.
Staton's post-graduation plan includes relocating to New York City where he will focus on sports business at law firm Paul, Weiss, Rifkind, Wharton & Garrison LLP. He hopes to own a sports team in the future.
Though hard work was a key factor in his success, it's not lost on Staton that his accomplishments would've never come to fruition without a supportive community.
"Although I get credit for working hard, working hard was the easy part," he said in an interview with The Harvard Gazette. "But I just happened to be around people who cared enough about me. I worked for a trash company, where my coworkers told me that I should go to college instead. I had a boss who let me leave work, go to school, and come back. I had a cousin who helped me study for the LSAT."
"I couldn't have done it alone."