Mia Love, Artur Davis to Address Annual Conservative Confab
Black Republicans Mia Love and Artur Davis will be featured speakers at conservative conference in March.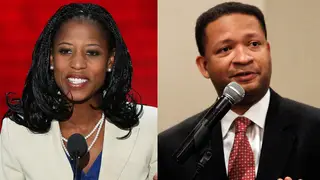 Mia Love, who gained national attention during a close race for Congress last year, has been tapped to speak at the Conservative Political Action Conference in March. If she'd won, the small-town Utah mayor would have been the first Black Republican woman to serve in Congress.
"In honor of our 40th anniversary, we are highlighting a series of young leaders who were born around the time or after the first CPAC was held," said Al Cardenas, chairman of the American Conservative Union, which hosts the annual confab.
Love isn't the only Black Republican headliner. Republican newbie Artur Davis and former congressman Allen West also will deliver remarks, as well as Francesca Chambers, editor of the online publication Red Alert Politics.
And in a blast from the past, failed Republican presidential candidates Mitt Romney, Rick Santorum, Newt Gingrich and Michele Bachmann will address the conference.
It will be Romney's first real public appearance since losing to President Obama in November, and rumor has it he may announce his future plans. Sarah Palin, who lost her Fox News gig last month, also is scheduled to make an appearance at CPAC.
BET Politics - Your source for the latest news, photos and videos illuminating key issues and personalities in African-American political life, plus commentary from some of our liveliest voices. Click here to subscribe to our newsletter. 
(Photos from left: Mark Wilson/Getty Images, Michelle Williams/Birmingham News /Landov)