Eric Adams And Joe Biden Say Police Don't Need Defunding After Meeting On Gun Violence
Progressives fear a return to the bad old days when communities of color were overpoliced.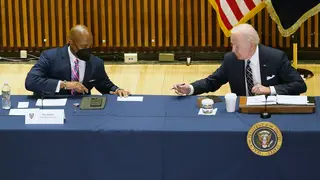 President Joe Biden met Thursday (Feb. 3) in New York with newly-elected Mayor Eric Adams for a summit on combating the recent surge of gun violence in the city. One of the takeaways from the meeting was that Biden and Adams are aligned on rejecting the call among many activists and Democratic party progressives to defund the police.
Shootings spiked across the city's five boroughs by 31.6 percent last month compared to January 2021, The New York Daily News reported. The death toll included six NYPD officers, among them were the fatal shooting of Officers Jason Rivera and Wilbert Mora that drew national attention, and the death of an 11-month-old girl who was shot in the face while sitting in a car with her mother in the Bronx.
"The answer is not to defund the police. It is to give you the tools, the training, the funding, to be the partners, to be the protectors communities need," Biden said. He called instead for more community policing practices.
In 2020, protesters flooded the streets of New York and other cities to urge lawmakers to defund police budgets. The murder of George Floyd by a now-convicted former Minneapolis police Officer Derek Chauvin ignited the movement.
But Adams, a retired NYPD captain, went against the grain of many in his party by rejecting that call during his mayoral campaign. Adams, a longtime advocate of police reform, campaigned on the promise of aggressive policing to keep the streets safe while curtailing police brutality.
According to The New York Times, Rep. Alexandria Ocasio-Cortez, a progressive New York Democrat, has concerns about beefing up police departments.
"We risk reverting back to a '90s-era, quote unquote, 'tough on crime' rhetoric, where policies may be rolled out to make it look like we're being responsive to public safety, but actually could potentially be making those issues worse even if they might play well politically," she said Monday, according to the Times.
At the summit, Biden also said his administration will partner with Adams in a new crackdown on "ghost guns," homemade weapons that lack traceable serial numbers.
"If you commit a crime with a ghost gun, not only your state and local prosecutors are going to come after you, but expect federal charges and federal prosecution as well," Biden said.