'I'm A Virgo' Is Like Nothing You've Ever Seen On TV
The new Prime Video series cast talks about Black superheroes and working with Boots Riley.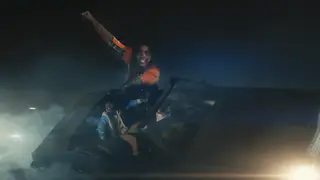 "13-foot-tall Black man in Oakland." That was the subject of the email Sorry To Bother You director Boots Riley sent to actor Jharrel Jerome when he hand-picked the Emmy-winning star for the lead in his latest, an Amazon Prime series called I'm A Virgo. Jerome was an immediate yes.
There is something so refreshing about the opportunity of seeing a young Black kid in a coming-of-age story, especially when there's an added layer of fantasy and absurdity. That's Riley for you; his eclectic mind will give you something off-the-wall and heart-warming to mull over, often digging into deeper themes plaguing the human race. According to his colleagues, he expands your consciousness and your ideas around what's possible, and that's certainly the case for I'm A Virgo.
"It's a fantastical story about some very real ideas," Michael Ellenberg, the show's executive producer said. Like everyone who's anyone, Ellenberg saw Sorry To Bother You at Sundance and was blown away. He proceeded to chase down Riley in the hopes that they'd be able to create a show together. "Finally he [Riley] said yes and when he pitched the idea, I was immediately hooked," Ellenberg shared.
I'm A Virgo is a dark comedy following a 13-foot-tall young Black man (Cootie) as he comes into his own and navigates the challenges of his size and the world at large, pun intended. Riley also allowed Jerome to step in as an executive producer on the series. Jerome shared, "I realized that I had a job beyond just coming to set to perform. I could go 50/50 with him [Riley], sit there, put our heads together, and try to come up with a world beyond." And boy, did they!
"Every episode, you're gonna push yourself further than you thought. Just when you think you know where you're swimming, we're going to veer in a different direction," Ellenberg shared. I'm A Virgo has a villain who is "The Hero," who has mind-bending superpowers that are enhanced when they're in community with one another, an unlikely romance that takes us on a strange rollercoaster ride, Mike Epps as a washed-up R&B singer/good-hearted dad and so much more. It's so worth the binge! Also, spoiler alert: Black women save the day, as usual!
The series manages to be humongous, but also very intimate at the same time. And in typical Boots Riley behavior, the viewer is also getting commentary about something more profound, like the Black experience, specifically the Black male experience, where the world looks up to Black men, venerates them in certain ways, and then looks down on them. Cootie is finding that out as an adult and once he gets a taste of the real world, he needs to explore it and his space in it. Watching him find his power, his voice, and his people are at times, ridiculous but mostly sweet.
The explosive series challenged the cast and everyone working on it to stretch their imaginations. We chatted with Carmen Ejogo (LaFrancine), Jharell Jerome (Cootie), Brett Gray (Felix), Allius Barnes (Scat), Olivia Washington (Flora), Kara Young (Jones) and Michael Ellenberg (EP) about working with Boots Riley, what it means for Black people to be superheroes, and even played a game: Name That Sign!; where they had to guess the zodiac sign based on a specific personality trait.
Each actor felt honored by their role and how they were written. Washington played Cootie's lil boo Flora and she was never a background character–she felt like a soft place to land in Cootie's harsh world, a thoughtful and deeply sad soul. I'm A Virgo is just as much Flora's story as Scat's, Jones', LaFrancine's. Washington shared, "It's so amazing that Boots could write such a person until fully so holy, so flawed, so, so vulnerable, so strong, so, so honest, so grounded. It was just such a blessed opportunity to be a part of it."
The characters have a purpose, and Jones may have carried the heaviest one. Young said, "I think Jones as a character is really a testament to women of the movements and those names who we don't hear or don't know." She continued, " I think Boots and all of the writers write Jones so beautifully to really lead the people, to let them know that they have more power than what they've been sold." It seems Riley wanted all of his characters to feel 13 feet tall.
Gray said, "Cootie being 13 feet tall represents to me…the biggest version of myself. Sometimes I feel like we build these insecurities, there's lots of expectations placed upon Black men, Black people in general." He continued, "Subverting those expectations and becoming the 13-foot-tall version of myself…just be yourself, as big as you can be. And if the world is afraid of it, just go fight it head on, show them what it actually is."
It's an unbelievable story, but it's also serious. It's not artificial. Even in how the series was shot, the production team dug into the crates to draw inspiration from the older ways of creating eye and camera tricks to showcase Cootie's size difference from the rest of the world. Ellenberg shared, "We literally talk to Star Wars people from back in the day to figure out how to do this. You're just put back in touch with a different type of filmmaking style; it's really moving."
Carmen Ejogo said it best, "You won't see anything like this on television ever!" Watch I'm A Virgo on Prime Video on June 23rd!