Jhené Aiko and Big Sean Flirting on Instagram Live Was All The Feels
The two chatted each other up with a wink.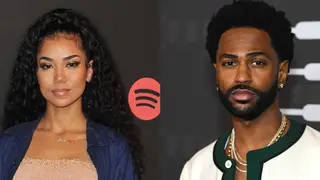 There are few couples that are as beloved in hip-hop as Jhené Aiko and Big Sean even though they split in 2018, and after a recent Instagram Live session, their fans' hearts can barely handle it.
On Wednesday night (April 15), Jhené and Sean surprised their fans after they popped up together in an impromptu livestream to connect and check-in while passing time in self-quarantine. The two chatted and joked around while expressing the mutual love they have for one another. 

Although both Jhené and Sean established that they were both currently unattached, fans could tell the chemistry between them is still there.

Naturally, questions regarding the status of their relationship came up given their past history. Sean was scoping out the comment section when one message caught his eye. "Somebody just asked are we dating," he told Jhené. 

To that, all the Detroit rapper had to say is "what the f**k do you think?" During another point of the livestream, Sean got a few laughs out of fans after he let it be known that he will gladly dish out a beatdown to anyone who tries to start something with his former boo. However, the R&B songbird did address one thing pertaining to their relationship. Jhené shot down the perception of their dealings being toxic.  

During another part of the livestream, Jhené jokingly asked Sean why he hasn't proposed to her yet. The Detroit MC slyly responded, "it's in the works. Don't even trip" before the two broke into laughter. "Whatever, I don't need no man," Jhené teased back before she playfully kicked Sean off her livestream and jokingly told all the fellas to get their sweatpants ready.

Fans' hearts are melting over the exchange.

"Leave me alone if you not [sic] coming with Big Sean energy," one fan wrote on Twitter. "After watching Jhene & Big Sean's live...that's the level of peace I wanna achieve lol," a second chimed in. "I thought I was lonely... then I watched Big Sean and Jhené Aiko on live," a third commented. 

See the rest of their reactions to Jhene and Big Sean's link up below.