U.S. Marshal Says It Was 'Premature' To Call Casey Goodson Jr. Shooting 'Justified'
Columbus Mayor Ginther has since blasted the statement.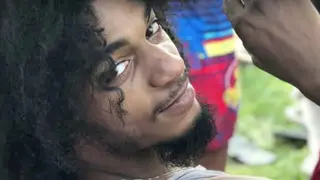 The family of  Casey Goodson Jr. is fighting for justice and now a U.S. Marshal is retracting a statement made prematurely that has even spurred the outrage of Columbus, Ohio Mayor Andrew Ginther. 
According to CNN, Peter Tobin, a U.S Marshal for the Columbus, Ohio area, said the shooting of the  23-year-old would be ruled justified. After being blasted by Mayor Ginther, Tobin has since released the following statement, "I previously provided commentary after arriving at the scene of the incident and made statements based on insufficient information that I received prior to the beginning of the official investigation into the shooting incident."
The statement continued, "It was premature for me to provide any opinion, conclusion, or other information about the facts of the incident. Other law enforcement agencies are engaged in an independent, thorough investigation of this incident."
Federal officials are now joining the investigation initially launched by Columbus, Ohio police.
On the afternoon of December 4, a U.S. Marshals task force were searching for fugitives when officials claimed Casey Goodson Jr. drove by waving a gun. He was confronted by Franklin County Sheriff's deputies, who allegedly ordered him to drop the weapon. Franklin County Sheriff's S.W.A.T. Deputy Jason Meade opened fire when Goodson Jr. allegedly did not comply. 
Goodson was never the intended target of the search.
Goodson's family has confirmed that he was licensed to carry a concealed weapon, the Columbus Dispatch reports. But when he was shot, the family says he was actually carrying submarine sandwiches as he was trying to enter his home after returning from a dental appointment. 
Officials say a weapon was recovered at the scene, but have not clarified where the weapon was found. His family also says he was shot three times in the back, although that has not been officially confirmed. 
The FBI and the Department of Justice Civil Rights Division are joining the Columbus Police Dept.'s Critical Incident Response Team to "review the facts and circumstances" of the incident, according to a DOJ statement. 
CNN reports that officials at the federal, state, and local levels have been careful in the dissemination of information about the shooting itself and that there are no eyewitnesses other than Meade and the other Marshals involved.