Daveed Diggs and Emmy Raver-Lampman Announce They Are Having A Baby
This will be the couple's first child.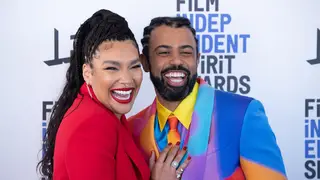 Daveed Diggs will soon become a D.A.D.
On Tuesday (September 26), The Little Mermaid actor and Emmy Raver-Lampman took to Instagram to share news that they are expecting their first child together, as reported by
PEOPLE. In the sweet photo, the Broadway stars are glow with joy as they hold her belly.
"We can't wait to meet you ❤️," they captioned the post.
The Umbrella Academy actor and her beau showed us her growing bun in the oven from all angles.
The mom-to-be wore a long black dress accentuating her belly bump, while Diggs rocked a mocha brown matching set with hints of black and vanilla. And for this family, they know how to rock natural hair. Diggs was handsome with medium-length locs, while Emmy Raver-Lampman wore small braids with crinkled ends in a half-up, half-down style with baby hairs.
Diggs is captured in one frame of their post, planting a sweet kiss on his lady's forehead. In another snap, they are seen in a joyous laugh as Raver-Lampman rests her hand on her beau's chest.
The duo first met while starring in Hamilton in 2015 but began dating years later.
In 2021, they graced the cover of Architectural Digest to show off their home in Southern California. In addition, they appeared in an episode of the publication's digital series for a tour inside their 3,500-square-foot dwelling.
"This may be our first house together, but I already see us and our families and our community and our passions everywhere I look," Raver-Lampman told the outlet.
Diggs added, "Having a home like this definitely makes it harder to be away. Now I really understand what it means to miss home; because there is really no other place I want to be."