Dreamville Festival 2022: J. Cole, DJ Drama, Kehlani, and More Put On For The City
80,000 hardcore fans attend the second-year event, which also brought revenue to Raleigh, North Carolina.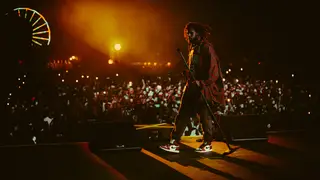 "They said I would never have a hit. Now I got a catalog."
North Carolina is home to Bojangles' biscuits and cheap Cookout trays, but J. Cole is quickly becoming the state's most prized treasure with each passing moment. His love for home shines in every performance and moment of gratitude.
And on Saturday, April 2, Jermaine Cole is home.
Named after his star-studded record label, Dreamville Festival is a one-of-a-kind festival that highlights more than just the biggest stars in the industry. The two days even provided two stages to hold the star power, alternating in times to give the 50,000+ attendees time to walk across Dorothea Dix Park. More than enough space to meet your steps for the month, there was a Ferris wheel that lit up the cold nights, VIP sections that dawned with some of NC's best in hair and food and fan walls recalling some of Cole's famous lyrics.
Saturday introduced the festival with artists such as Mikhala Jené, Lute, Devon, Morray, and Moneybagg Yo, and wrapped the night with Lil' Baby. The festival rocked with each performance. "It was so exciting and so much fun, and I'm home. I'm happy to be here. Bro, they went crazy! It was for fans." Morray, also a North Carolina native, exclaimed. Kehlani graced the stage with love songs gushing about being nervous to do them at rap festivals. But co-founder of Dreamville, Ibrahim Hamad, stated her performance was "packed and sounded like a sing-along."
Another highlight from Saturday was Ja Rule and Ashanti gracing the stage, with the former presenting the Princess of Hip Hop and R&B with a cake to celebrate the 20th year anniversary of her debut album, Ashanti. The two rocked the stage with some of their biggest hits, "Always on Time," "Put it on Me," and "Mesmerize."
It wouldn't be Dreamville Fest if the signed artist didn't have their moment on stage. Ari Lennox, Omen, JID, Earthgang, Cozz, and Bas all took turns expressing their gratitude to North Carolina for being the stomping grounds of their careers and for Cole giving them a platform. "This is the best festival ever," Ari Lennox said, "I had my first apartment here in Cary, NC."
T-Pain, Wale, Bia, and Rico Nasty dominated the stage Sunday, but it was Sunday night that fans witnessed history. DJ Drama reminded fans why he's one of the best to ever do it. Drama reflected on his highs and lows in the music industry, which shaped him as a person and artist, and in turn, helped create some of the biggest names in rap. The South had something to say as Jeezy, T.I., and Lil' Wayne took the stage in dominating fashion, thanking Drama in each pause for giving them the opportunity to be featured on his now-Grammy Award-winning Gangsta Grillz series.
The trio rapped songs from Trap or Die, Dedication, and Urban Legend, as fans didn't miss a lyric.
Fayetteville's own favorite son, J. Cole, wrapped up the concert, performing songs he hasn't performed in years. His humble beginnings are etched into every song. The rapper recalled passing out mixtapes at North Carolina A&T and hearing how he will never make it big. But once he cut the lights out and saw the depth of fans in attendance, he knew that manifestations can become reality. Performing songs from 2014 Forest Hills Drive, Friday Night Lights, Cole World: The Sideline Story, and The Off-Season.
'I'll see y'all next year."
---
Quierra Luck writes about your favorite athletes, and musicians, and ensures that your Black history is preserved. You can follow her latest musing on Instagram @Quierra_Luck.