'Real Housewives of Atlanta' Star Sanya Richards-Ross Expecting Baby No. 2
The reality star broke the news to her husband, Aaron Ross in the season 15 mid-season trailer for the series, released Friday.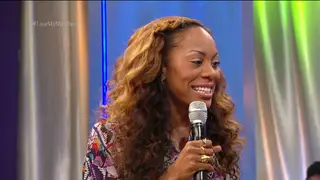 Real Housewives of Atlanta star Sanya Richards-Ross is expecting her second child with husband Aaron. She shared the good news with Aaron Ross on the show by presenting him with a positive pregnancy test result.
Aaron takes a closer look and says, "No way!"
"This is real?" he asks, to which she nods as she starts jumping up and down, cheering, "I'm pregnant!" before hugging everyone present.
Per PEOPLE, the star have a 6-year-old son, Aaron Jermaine.
The 38-year-old retired track-and-field star shared on the show last year that she made the decision to remove her IUD and work on baby No. 2 with her 40-year-old  former NFL star husband.
Richards-Ross shared in an interview earlier this year that the journey to have a second child came after much contemplation after she and Aaron had challenges balancing the workload early in their marriage and parenthood journey.
"I nursed my son for almost two and a half years. A nurse — and I wish I had taken her advice — told me to pump. She said, 'You have to share this load. If you're exclusively breastfeeding, it's going to get overwhelming.' And I was like, 'Oh, no, I'll take that on, it'll be fine,' " she recalled, per PEOPLE.
"And I remember, there were days where I would ask my husband to just stay up with me. Even if he wasn't feeding, I just needed his company. And he was like, 'Why should we both be tired,' and it caused a big rift. It was a point of contention for me because I was taking this full burden on and he wouldn't even sit up with me."
She continued, "So, I think it's about, for both people, sharing your needs clearly, but then also your partner having the heart to really hear you and understand that those needs matter to you, even if they don't seem important to them."
Richards-Ross says that her RHOA castmates have been "so supportive of my journey," adding, "Like they want me to be pregnant more than I want to be pregnant. I just love that because that's what real sisterhood is all about."
The Real Housewives of Atlanta airs Sunday nights on BRAVO.