Andre Harrell In His Own Words: Inspirational Quotes From A Music Legend
We are celebrating the heavenly birthday of the iconic Uptown Records founder.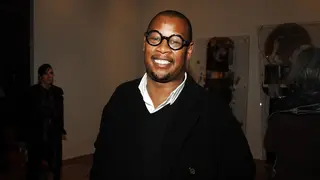 Today would have been the 63rd birthday of Andre Harrell, Uptown Records founder and music industry legend. In May 2020, Harrell passed away at 59 years old. 
With over 30 years in the entertainment industry, Andre Harrell was an inspiration and mentor to many. Founding Uptown Records in 1986, the music icon worked with Guy and producer-performer Teddy Riley, Al B. Sure, Jodeci, Heavy D and the Boyz and Father MC. Harrell also signed a then teenage Mary J. Blige. Perhaps his most notable achievement was his eye for talent when he hired an enterprising young intern named Sean "Puffy" Combs who he quickly promoted to an A&R role. This role led Diddy to discover and sign the Notorious B.I.G.  

Andre Harrell always had pearls of wisdom to share on the impact of Black culture and his rise to the top. In honor of his heavenly birthday, see some of his most powerful quotes below:
On His Father

"My dad worked hard at the produce market in the Hunts Point section of the Bronx, but he didn't love it so he was unhappy. That experience made me move towards something I really wanted to do, because otherwise I would feel trapped like him."  (Reuters 2018)

On His Protégé, Diddy

"We were representing like an urban chic, which we called 'ghetto fabulous,' and he [Diddy] loved it. He loved it so much he would be walking around in the office with no shirt on, Timberland boots and jewelry… He was art imitating life." - (theGrio, 2016)

On His Label Uptown Records

 "I'm an inner-city kid who knows the reality of being poor. I'm looking for escapism. Fun music. Good-time music. So, Uptown." (Vanity Fair, 1993)

On Black America

"My goal is to bring real Black America — just as it is, not watered down — to people everywhere through music, through films, through everything we do." (The New York Times, 1992)

On Culture

"I tend to lean toward things that are culturally significant in our universe at that time." (Wall Street Journal, 2014)

On Lessons To His Son

"I try to tell him that youth is for doing it, and doing it right now. So figure out what you love, and then get to work. Then, when you are my age, you can sit back and call the shots." -  (Reuters, 2018)