So Much Drama: Ed Hartwell Claps Back at Keshia Knight Pulliam Over His Alleged Mistress
Details are being exposed in court documents.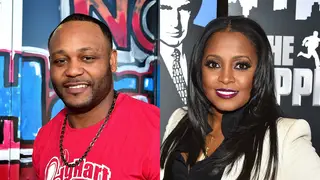 Keshia Knight Pulliam is just days away from giving birth, but the feud between her and her estranged husband, Ed Hartwell, just continues to get uglier.
Now it's been alleged that Ed has been parlaying around with a woman named Tonya Carroll.
According to Bossip, Carroll has been repeatedly commenting under his photos with the hashtag "#BigSexy," and Hartwell has reportedly also been returning the favor by liking some of her photos on Instagram.
While Keshia has accused him of being unfaithful to Carroll, he's clapping back on his own, saying she's only making these allegations to get the media's attention.
He allegedly blasted her for making "outlandish and libelous statements" about him in the court documents. He adds that he has paid her even more than the court had ordered during their proceedings.
Though he said Keshia is accusing him of having an alleged mistress for media attention, he didn't directly address the rumors that Carroll is actually his mistress. He, instead, said he wants the motion shut down because it has "no merit."
Go back to the beginning of their divorce drama with BET Breaks, above.