Ice Spice Believes Female Rappers 'Secretly Enjoy Competing'
The Bronx native says their male peers enjoy watching the women compete.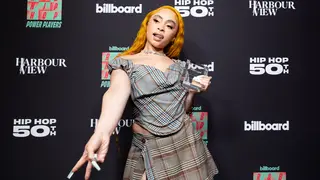 Ice Spice believes that, behind closed doors, the rap girlies secretly enjoy competing with one another.
In a recent cover story for Variety, the Bronx native revealed that in the world of rapping, "It is a competition at the end of the day," and camaraderie isn't always present, adding, "People want to be all 'I'm a girl's girl,' but then behind the scenes being b—hes."
Ice Spice shared her excitement over the recent success many female rappers have experienced.
"Basically, we here, the girls, are doing amazing. I'm excited to see it," she explained. "I feel like the competition is what keeps us all excited because I think we all secretly enjoy competing and seeing who put that s**t on better and who's gon' get the most views."
"I can be transparent, and I know the competition is checking on me, too, which is why it's okay to say that," the "Munch" emcee continued. "Because it's like, 'Yeah, girl, I'm watching you, and I know you watching me.' And boys are watching, too, because they be secretly haters."
"Everybody today is competing with everybody no matter if you a boy, girl, nonbinary, whatever it is. You still checking in on your competition. That's in every industry."
The 23-year-old has some competition of her own after earning two nominations, including "Best Breakthrough Hip Hop Artist" and "Best Collaboration" for her song "Princess Diane" with Nicki Minaj at the upcoming BET Hip Hop Awards 2023. The show airs Oct. 10 at 9 p.m. ET/PT on BET.