'Don't Buy My Albums, Don't Come To My Shows': Kid Cudi Shuts Down Haters In Backlash Over Painted Nails
The rapper turned off Instagram comments and told haters where to go.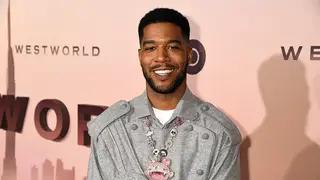 Kid Cudi responded fiercely to social media trolls on Saturday (July 17) amid backlash for sporting neon nail polish in a recent Instagram post. 
The incident occurred after the "Day 'N' Nite" singer posted an Instagram image of himself sporting glowing neon nails, and a helmet that resembles characters in the Disney series, The Mandalorian. The image was captioned: "Mando Cud," notes The U.S. Sun.
But not everyone was feeling the new Punk look, and cyberbullies threw verbal hands at the artist. Cudi, whose real name is Scott Ramen Seguro Mescudi, turned off his Instagram comments. And later, he took to Twitter to confirm that he did it in response to the negative comments. He also had some terse words for the critics who don't really understand him.
"Seems people really have a problem [with] me painting my nails. I got tired of blocking so many accounts."  Cudi writes on Twitter, "I really need you to understand if you don't like me doing this or anything I do, please don't buy my albums, don't come to my shows. F*** way off."
In April, trolls came for Cudi for wearing a floral dress during a performance of "Sad People," a single from most recent album, Man On The Moon III: The Chosen, in an effort to pay homage to late-Nirvana singer Kurt Cobain. 
The performance came the same week as the anniversary of Cobain's death by suicide on April 5, 1994. The dress was similar to one that Cobain wore on the cover of The Face magazine in 1993.