Kanye West Alleged Rap Diss Pushes Pete Davidson To Hire Security
A lyric on the rapper's leaked song "Eazy" reportedly caused the SNL comedian to further protect himself.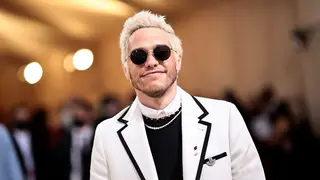 Kanye West has allegedly dissed Pete Davidson in a leaked track that has reportedly forced the Saturday Night Live comedian to hire a security team.
On Friday (Jan. 14), a Twitter account shared a rap diss that reportedly has Ye behind the mic on a new song "Eazy." One lyric that stood out was: "God saved me from that crash/ just so I can beat Pete Davidson's a**."
According to Radar Online, Davidson is not so much concerned about the rapper/entrepreneur but is worried about the mega fanbase that the DONDA artist has.
"His devoted followers listen to his songs and act upon them. That's why Pete is now using security," a source close to Davidson told the outlet.
Adding, "Until recently Pete never had security with him when he was out and about, even when he was engaged to Ariana Grande. But dating Kim (Kardashian) is a totally different level of fame."
In Dec. 2021, it was revealed that West began spending time with Uncut Gems actress Julia Fox.
"My solace comes from seeing my kids and getting a solid schedule," he said in an interview with Hollywood Unlocked.