Explainer: Many Black Americans View Capitalism Negatively, But There Are Reasons New Study Shows
The racial wealth gap has roots in a long history of discrimination, according to Pew Research.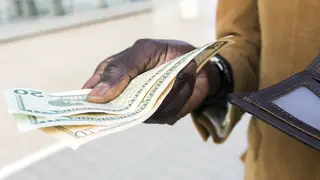 Systemic economic inequality is at the root of widespread dissatisfaction with capitalism among Black Americans.
In fact, African Americans' negative view of capitalism has recently trended higher, according to Pew Research Center surveys reported on March 8. A 2019 survey found that 40 percent of Black adults said that they had a very or somewhat negative impression of capitalism. Three years later, another survey found that dissatisfaction with capitalism increased to 54 percent among Black adults.
Although negative views of capitalism trended higher among all races, Black Americans were the only racial or ethnic group to view capitalism more negatively than positively in the 2022 survey. At the same time, Black Americans were alone in viewing socialism more positively than negatively.
An insight to Black Americans' negative view of capitalism was revealed when Pew asked if the phrase "gives all people an equal opportunity to be successful" describes the capitalist system extremely or very well. About 25 percent agreed and nearly half (49 percent) disagreed.
Systemic inequality has hindered generations of Black Americans from achieving the American dream.
U.S. Treasury Secretary Janet Yellen has highlighted the systemic inequalities that continue to keep Black Americans at the economic periphery. Speaking at an event in January 2022 honoring Dr. Martin Luther King Jr.,Yellen said, "From Reconstruction, to Jim Crow, to the present day, our economy has never worked fairly for Black Americans -- or, really, for any American of color."
According to the Brookings Institution, the racial wealth gap remains wide after centuries of discrimination and economic exclusion. In 2016, White households had a net worth of $171,000 compared to $17,150 for Black households.
"Gaps in wealth between Black and white households reveal the effects of accumulated inequality and discrimination, as well as differences in power and opportunity that can be traced back to this nation's inception," Brookings' report said. "The Black-white wealth gap reflects a society that has not and does not afford equality of opportunity to all its citizens."
But Black Americans aren't completely soured on capitalism as a means to achieve financial security, either. A Pew survey in October 2021 found that 58 percent of Black adults believe that supporting Black-owned businesses is an extremely or very effective vehicle for upward mobility.