Black Unemployment Rate Slipped to 13.8 Percent in January
The Black unemployment rate for January was 13.8 percent from 14.0 percent and the overall unemployment rate was 7.9 percent.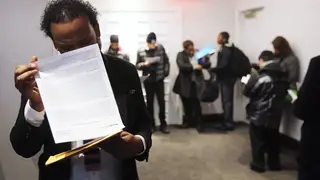 News that jobless claims jumped last week and the economy had shrunk for the first time since 2009 were stark reminders that the nation's economy still has a long way to go before it is healthy again.
The African-American unemployment rate for January underscored that point. According to figures released by the Labor Department, Black unemployment dipped slightly from 14.0 percent in December to 13.8 percent in January. The overall unemployment rate was essentially unchanged at 7.9 percent, slightly up from 7.8 percent in December.

There were 804,000 discouraged workers in January, a decline of 255,000 from a year earlier, according to the Bureau of Labor Statistics. Discouraged workers are people not currently looking for work because they believe no jobs are available for them.

The Labor Department reported that 157,000 jobs were added last month and that new first-time unemployment claims rose to 368,000 last week, an increase from the previous week's 330,000.
According to a report from Automatic Data Processing, Inc., the private sector added 192,000 jobs in January. Small businesses accounted for 115,000 of them. Other economists predicted a number closer to 165,000.
"I don't think anything has fundamentally changed in the economy," said Mark Zandi, chief economist with Moody's Analytics, which co-produces the report with ADP. "The economy is growing.
In separate news, the White House announced that it was closing its Council on Jobs and Competitiveness. Read more here.

BET National News - Keep up to date with breaking news stories from around the nation, including headlines from the hip hop and entertainment world. Click here to subscribe to our newsletter.
(Photo: John Moore/Getty Images)