'Star Trek' Icon Nichelle Nichols Is Dead At 89
Nichols was Lt. Nyota Uhura on 'Star Trek' and was one of the first Black actresses to play a major role on a tv series.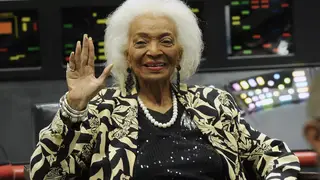 Nichelle Nichols, the legendary actress who played Lt. Nyota Uhura on the original Star Trek series from 1966 to 1969 and who later reprised the role for the first six Star Trek feature films, has passed away at the age of 89, on Saturday, July 30. 
On a Facebook post, on Sunday (July 31), Kyle Johnson, Nichols' son, said:
"Friends, Fans, Colleagues, World. I regret to inform you that a great light in the firmament no longer shines for us as it has for so many years. Last night, my mother, Nichelle Nichols, succumbed to natural causes and passed away. Her light however, like the ancient galaxies now being seen for the first time, will remain for us and future generations to enjoy, learn from, and draw inspiration.  Hers was a life well lived and as such a model for us all. I, and the rest of our family, would appreciate your patience and forbearance as we grieve her loss until we can recover sufficiently to speak further. Her services will be for family members and the closest of her friends and we request that her and our privacy be respected."
Nichols was born on December 28, 1932 in Robbins, Illinois. Prior to her breakout role in Star Trek, Nichols performed in musicals, and theater plays. She was also scouted by Hugh Hefner for his Chicago Playboy Club. 
Outside of acting, Nichols was an avid supporter of NASA and routinely volunteered to help recruit minority and women candidates for the agency. Last December, at San Diego's Comic Con, Nichols made her last public appearance and was celebrated by NASA. According to PEOPLE, she was awarded the NASA Exceptional Public Achievement Medal for her four decades of activism.
May her memory live long and prosper.