Why We're Excited About This List of 'DJ Cassidy's Pass The Mic: BET Awards Edition' Performers
Get to know the impact that these 2000s-era musical guests, like Ashanti, Nelly, Kelis, and more, made on hip hop and R&B then and now!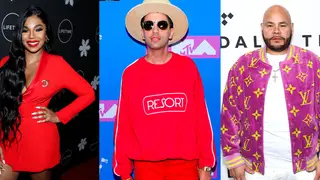 After a fabulous night of celebrating the best in culture at the BET Awards 2021, make sure to stay tuned to your screens for the afterparrty, which will take us back to the 2000s on a brand new edition of DJ Cassidy's Pass the Mic. In his popular series, legendary singers and rappers appear virtually, singing along to their hit songs as Cassidy DJs the set live from his living room. For this special "BET Awards" edition, Cassidy broke tradition from keeping appearrance a surprise and gave us a glimpse of the guest list: 2000s-era stars Ashanti, Nelly, Akon, Ja Rule, Kelis, Fat Joe, Sean Paul, and Fabolous are on board, along with many others!
While we count down to Sunday, let's take a look back at the careers of these legendary stars, how each of them made their mark, and influenced today's hip hop and R&B.
Ashanti

After Ashanti debuted in 2002, the princess of hip hop and R&B soon became the gold standard for rapping/singing hybrid tracks, with her melodic voice lacing the hooks of the biggest rap hits of the 2000s, giving them instant pop appeal and a broader reach. The singer-songwriter also ruled the charts with her self-titled debut album and its lead single, "Foolish," while writing for huge pop stars, including Jennifer Lopez. Her run of hits with Ja Rule made rap songs with R&B hooks instant chart toppers, and that hasn't changed; it's become a style  that's popular to this day. And let's not forget her iconic "awww baby" adlib that has been adopted and remixed by numerous R&B and pop songstresses over the past two decades.


NELLY

In a decade where few rappers crossed over to pop, Nelly became a pop superstar, with smash hits like "Hot in Herre," "Ride With Me," and "E.I."  He dominated the charts with his infectious hooks and a slight country twang, and he did this without losing an ounce  of street cred. Nelly was the first mainstream rapper to sing on rap songs, a concept that was brand new back in 2000 and is now universal across the rap genre. The St. Louis native also helped put regional Midwest rap, apart from Chicago,  on the map, with him and Eminem becoming the first Midwest rappers to take the top Billboard spots in 2002. 

Ja Rule

Ja Rule commanded the charts in the early 2000s with his melodic growl and catchy hooks. featuring pop and R&B's biggest stars. In addition to his run of hits with frequent collaborator Ashanti, Ja Rule topped the charts with tracks featuring 2000s-era stars, including Christina Millian, Jennifer Lopez, and Case. His albums Rule 3:36 (2000) and Pain is Love (2001) both went triple platinum.

AKON

Collaborations with Eminem and Snoop Dogg on Akon's sophomore album, Konvicted (2006), opened the gates for the Segenalese-American singer-rapper and he walked right through with ease. In just 16 weeks, his album went double platinum and stayed within the top 20 of the Billboard Hot 100 for 28 consecutive weeks. 2007 became the year of Akon. His unique, lilting voice dominated the pop charts and with over 300 guest appearances and more than 10 tracks getting certified platinum, his stamp on music history was set. His legacy continues through the work of his protege, T-Pain.


KELIS

Fat Joe

Fat Joe has been crafting a legacy since 1992, and he's still going strong. The South Bronx-born rapper traversed genres, applying his smooth flow to both grimy hits like "Lean Back" and pop crossovers like "What's Luv?" Along with Big Pun, Joe was responsible for cementing Puerto Rico on the hip hop map and is known for collaborating with other rappers and R&B stars, most notably DJ Khaled and his former Terror Squad member Remy Ma. He continues to crank out hits, with "All the Way Up" and "Sunshine" hitting the charts in 2016 and 2020 respectively.

Sean Paul

The Jamaican-born rapper is one of the most famous dancehall artists and producers in the history of the U.S., crossing over onto the pop charts with a string if hits througbout the 2000s,  like "Get Busy," "Gimme The Light," and "Temperature." He also gave the culture some iconic collaborations, like "Baby Boy" with Beyonce and "Give It Up to Me" with Keyshia Cole. He's continued making music over the past decade, with most of his albums receiving Grammy nominations for "Best Reggae Album". Since he ruled the charts in the 2000s, dancehall'sl influence has become a staple in American hip hop, as evidenced in songs like Drake's "One Dance" and "Controlla."

Fabolous

Fabolous was a fixture on urban radio throughout the 2000s, whether it was on his own hit singles full of witty rhymes and wordplay, or on his myriad of features. The Brooklyn-born rapper collabed with too many 2000s-era stars to count, everyone from Christina Millian and Ashanti to Jay-Z and Diddy. He's stayed active over the past two decades, collabing with newer artists like Lil Uzi Vert and Ty Dolla Sign, and he has one of the larger social media impacts among rappers who debuted in the early 2000s.

"DJ Cassidy's Pass the Mic: BET Awards edition" will premiere immediately following the awards with appearances by Ashanti, Ja Rule, Nelly, Akon, Kelis, Fat Joe, Fabolous, Sean Paul and more.

"BET AWARDS" 2021 AIRS LIVE SUNDAY, JUNE 27TH AT 8 PM ET/PT on BET, BET HER, LOGO, MTV, MTV2, TV LAND, AND VH1.