Chingy Drops Gems On Protecting Your Energy And Unlocking Your Crown Jewel
The St. Louis rapper is releasing his first album in nearly 13 years, and he is sharing the fruits of his self-discovery journey.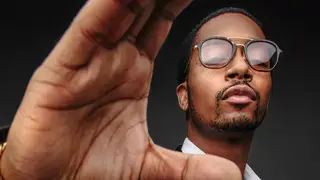 For Chingy, his latest album was a long time coming. Today (July 31), the St. Louis rapper is releasing his fifth full-length album, his first in nearly 13 years. Fans familiar with the Chingy from the early 2000s might be surprised by the artist's latest project. Titled Crown Jewel, the 40-year-old describes the new 12-song album as a "conscious project."
"[With Crown Jewel], I didn't want to be talking about going to the clubs, shooting, f***ing this girl, shooting, and [stuff]. I wanted to teach people something they can learn from," Chingy says via phone from his hometown. It is a far departure from the earlier work that he's known for, like hit singles "Right Thurr," "Holidae In," "One Call Away," and "Pullin Me Back (ft. Tyrese)." Chingy credits this growth to a decades-long journey towards self-discovery rooted in studying astrology, metaphysics, and philosophy.
The idea for Crown Jewel was synthesized after he finished the 2019 leg of the Millennium Tour. The timing of the album's release couldn't be more fitting because its deeper, more complex subject matter reflects aspects of today's society. He worked on it through the winter season and the release coincides with the coronavirus pandemic and the reckoning of social and racial inequities.
The rollout for Crown Jewel is a music video for the lead single "Invincible," a nod to '80s hip hop. It's as much of a reminder that Chingy can spit, as it is about gaining self-knowledge. Then there's "All Capp" and "Kundalini Love," the latter of which is about connecting through spiritual energy.
Here, Chingy explains why he believes this new album is some of his best work yet, his journey towards self-discovery, and why he's sending up words for his late brother-in-rhyme, Huey. 
BET.com: So, you're releasing your new album, Crown Jewel. How does it feel to put out an entire album now after all these years? 

Chingy: It feels good. I've released EPs and I've released songs here and there, but I haven't released a full-length album like this that has about 12 to 14 joints on it. This is more of a self-reflecting type of project. [I'm] talking about getting to know myself internally and trying to teach people that as well. The normal Chingy that people like [such as] the dance-y, party music, there's a joint or two on there that's like that. But, it's mainly revolving around mental stimulation.

BET.com: On "All Capp," in the opening verse you say "Made a way for myself / Went right then left." On a personal level, what was going on in your life leading up to Crown Jewel?

Chingy: You know how you go through life [and] you're young and experience things? You're around people who you think have your best interests at heart. You grow and you realize these people were just around for certain reasons. I accomplished a lot of goals with music and selling records and everything. But, it's people who were just around for the fame and materialistic aspects. I had to separate myself from those people and just continue on my own journey. I ended up making a lot of bad decisions and messing up a lot of things financially depending on somebody else's word. I had to get away from those types of individuals and just really look at myself.

BET.com: Can you share an example of what you experienced?

Chingy: Years ago, a close relative of mine acted like they could do business management, keeping up with finances and making sure things got paid. Come to find out, they couldn't do that. They got me way off track to where my taxes got behind. A lot of stuff got behind. I was dependent on them and they just kind of messed some things up for me. I'm still fixing them to this day. I can't really give a particular dollar amount or anything, but [I lost] a lot of time and a lot of money and got a lot of hardships from it.

BET.com: How did "Invincible" come together?

Chingy: Lately when I've been in the studio, I've been listening to all types of trap tracks, and all of that. But the trap tracks haven't been speaking to me. So, when you hear that album, most of the tracks are like "Invincible." It's got this real hip hop feel, and, that's what I've been feeling. That record is a dedication to '80s hip hop [and] when conscious awareness was in the music and you were telling people something about where they come from, their history, and opening their minds. I'm talking about the very essence of what crowns you.

BET.com: From Jackpot to Crown Jewel, how does your latest album reflect who you are today and what message do you want your fans to take from it?

Chingy: If you listen to Jackpot and the terminology, like how I was speaking and rapping, it was clearly about money, having fun, women, materialistic stuff and enjoying myself in my own way. On Crown Jewel, you'll be able to see the mental development. Not just on a lyrical level, but on an internal level. Just as well as I'm rapping, I'm teaching too. I'm encouraging people to get to know yourself more. 

BET: Were you ever pressured to change a song in a way that you didn't agree with?

Chingy: If you heard a lot of music that was supposed to go on my third album, I had a lot of [different records]. I've always been a versatile artist. So I make all types of music. Sometimes you can have some songs talking about healing and helping, and they don't want to hear that. They want you to talk about the girl shaking her a**, b***h, shooting this guy and killing them. 

BET.com: What are your thoughts on the protests around police reform and the Black Lives Matter movement? 

Chingy: This stuff has been going on for centuries and it should have been tackled, but evidentially, if it wasn't tackled to the best ability for the people who they were brutalizing, that just means that it was being okayed by somebody. And at this point, I think people are just sick of it. I think George Floyd, may he rest in paradise, everybody around the world was so [moved] because they actually got to watch him take his last breath and a scream for his mother. With Michael Brown, may he rest in paradise, everybody only heard that he was shot by police. They didn't get to see that. They just heard the police killed him. That's why [George Floyd's death] was so personal for people around the world. It became such a problem because everybody could see the problem. You got to do right behind this. This has been going on too long and it sucks that racism still exists. It's just such a stupid concept.

BET.com: Do you feel hopeful about what's happened so far? 

Chingy: It's so much that has to change before things can really be right. When you have set up an education system telling a certain people that they come from slavery, that is mental annihilation. It's so much that's got to go on before things get on track. I'm talking about the people that are in power that run these companies [and] that have this authority. So many things have to change before we can ever think that that's going to be some real unity.

BET.com: Last month, hip hop was hit with the unfortunate news of Huey's passing. Can you share what was your first reaction and any memories from working with him?

Chingy: Huey was a friend of mine. He was even closer friends with one of my childhood best friends who grew up with me that passed away in like '07. He was a great dude. A great artist. If you asked me, one of the best lyrical artists in St. Louis. It was just too early for his passing, you know? 

We've kicked it several times. I remember one time we were headed to Vegas. Nelly had a show and we were coming out on Nelly's set. We were on the plane talking about some religion stuff and [Huey] was drunk. He was so serious. I wasn't drunk, and it was just funny. We were just talking but it was so funny and memorable because he was so drunk. He was drinking them shots on a plane and he was talking loud and he didn't care either. Then we got to Vegas and we kicked it. But that was my little brother, may he rest in paradise. He left iconic records for the world to continue to listen and to remember him by. He was a great dude and he loved his kids.

This interview has been edited and condensed for clarity.