Graduating Senior And Father Killed After Richmond Graduation Ceremony Mass Shooting
Shawn Jackson, 18, and his father Renzo Smith, 36 were killed after Huguenot High School's graduation ceremony in Richmond, Virginia.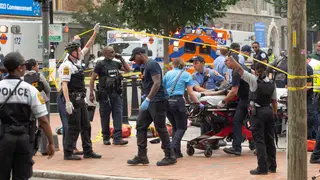 A graduating high schooler and his father were killed in a shooting at Monroe Park after Huguenot High School's graduation ceremony in Richmond, Va., on Tuesday (June 7),  local station WTVR reports.
Charles Willis, a community activist who leads the group United Communities Against Crime, released the photos and names of the victims, Shawn Jackson, 18, and his father Renzo Smith, 36. Jackson had just participated in the commencement exercises with his classmates.
"The family asked that the Richmond community keep them in your prayers," Willis said.
In the aftermath of the tragic shooting, Amari Pollard, 19, was taken into custody, said Interim Richmond Police Chief Rick Edwards. Pollard appeared in court in Richmond on Wednesday morning.
"We think the suspect knew at least one of the victims," Edwards said.
He also noted that Pollard had several weapons on his person when he was apprehended.
"I'd like to just express my concerns and sympathy for those who have lost their lives today, and those whose lives were forever changed," he added. "We prepare for an event like this, and we prepared for it with our partners and hoped that this day wouldn't come, but it came to Richmond today."
In addition to the deaths of Jackson and Smith, another victim is currently hospitalized in critical condition with life-threatening gunshot wounds, and four other victims were treated for non-life-threatening injuries including a nine-year-old.
Richmond Mayor Levar Stoney described the shooting as both "tragic and traumatic."
"Children were involved here... this is their graduation day," Stoney said. "The question that comes to my mind right now is, is nothing sacred any longer? Is nothing sacred any longer?"
To address the tragedy, Richmond Public Schools canceled all school-related activities on Tuesday night and closed school on Wednesday.
"This is supposed to be a joyous day when our kids walk the stage and get their diplomas. Which is what they all did here for Huguenot today, and walked out the doors into their families' and friends' arms taking pictures," Richmond Schools Superintendent Jason Kamras said in a statement. "And then this tragedy occurred. I don't have any more words on this. I'm tired of seeing people get shot. Our kids get shot. And I beg of the entire community to stop, to just stop. Our kids can't take it. Our teachers can't take it. Our families can't take it anymore. I beg of you to stop."
Edwards stated that he believed that the shooting was gang-related.
After news of the shooting circulated, Lt. Gov. Winsome Earle-Sears claimed that the gun violence in Richmond stems from gang activity not "law-abiding gun owners."
"Even if you took all the guns off the street, from the law-abiding citizens, the others who mean harm, who mean to kill and mayhem, they're going to have the guns," she said. "So we have to figure out what's going on in our communities. We have to find the right problem so that we can come to the right solution."
Pollard is facing two counts of second-degree murder and is being held without bond.
No motive for the shooting has been determined.