Mother Of 6-Year-Old Who Shot Teacher In Virginia Classroom Takes Responsibility For Shooting
Deja Nicole Taylor faces a felony child neglect charge for the incident, but has apologized on her child's behalf.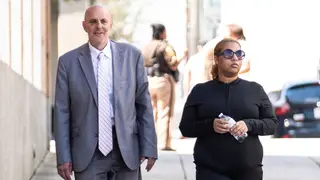 A Virginia mother has broken her silence about the case involving her 6-year-old son shooting his teacher, saying that she is responsible for her child's actions.
"Yes, of course. That is my son. So as a parent I am willing to take responsibility for him because he can't (at his age) take responsibility for himself," Deja Nicole Taylor, 25, said in an exclusive interview that aired Wednesday (May 10) on ABC News' Good Morning America.
A Newport News, Va., grand jury indicted Taylor April 10 for her son shooting his first grade teacher, Abby Zwerner, 25, on Jan. 6 during class at Richneck Elementary School, The Daily Press reported. Prosecutors charged Taylor with felony child neglect and a misdemeanor count of recklessly leaving a firearm so as to endanger a child. A trial is scheduled to begin on Aug. 15.
Prosecutors allege that the boy pulled a gun out of his front hoodie pocket about 2 p.m. while sitting at his desk. He fired one round at Zwerner who was seated at a table less than 10 feet away. As he opened fire, she lifted her left hand. The bullet went through that hand and struck her in the upper chest and shoulder.
Zwerner, who had multiple surgeries, was released from Riverside Regional Medical Center about 10 days after the shooting, The Virginian-Pilot reported.
Taylor's attorney, James Ellenson, has said the handgun, which was legally purchased, was stored out of the child's reach, on the top shelf of a bedroom closet, and Taylor has "no idea" how her son accessed the weapon.
In the ABC News interview, Taylor said her son suffers from ADHD, which she believes may have played a role. The family previously released a statement saying he was under a care plan at school that required a parent to accompany him each day to class.
"The week of the shooting was the first week when we were not in class with him," the statement read.
Taylor told ABC News that school officials decided that family members no longer needed to be present in the classroom because her son started taking medication and was meeting his academic goals.
Taylor said her son liked his teacher but felt that she wasn't listening to him in the days before the shooting.
"I will say that week he felt he was being ignored," Taylor stated. She said he told her, "Mom, I don't think she was listening to me. I don't like that."
Taylor said her son was suspended from school days before the shooting after school officials said he grabbed Zwerner's cell phone and threw it to the ground. But Taylor said that's not exactly how it happened.
"He was in class, he was trying to tell her something and she asked him to go sit back down," Taylor stated. "He threw his arms up and he said, 'Fine.' When he threw his arms up, he knocked her phone out of her hand [by] accident, and he got suspended for that."
When asked what she would say to Zwerner, Taylor said, "I just truly would like to apologize. … We were actually kind of forming a relationship, with me having to be in the classroom."