The Game Shares 'A.I. With The Braids' Video
Featuring virtual representations of him and Lil Wayne.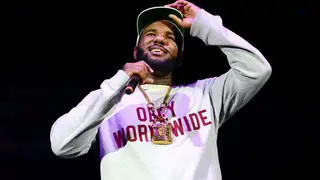 The Game has released a new CGI-driven video for "A.I. With the Braids," his recently released single that features Lil Wayne. As you can probably tell from the title, it's an homage to the legacy of NBA player Allen Iverson.
During the four-minute video, The Game and Lil Wayne's virtual representations play basketball on a court while reminding the world that they're as good as Iverson was at the height of his career when he averaged 33 points per game with the Philadelphia 76ers in 2005.
As this happens, a group of women can be seen dancing in jerseys bearing Iverson's number and basketballs float around a sky glowing with thunder. It's not a realistic video at all, but it's entertaining.
Speaking to Complex last month, The Game explained why he created the song. 
"'A.I. With the Braids' is almost single handedly responsible for most if not all trends you see in hip-hop and professional sports these days," he said "Every kid, including myself wanted to be Allen Iverson, from the baggy jerseys with the diamond chains to the designs in his braids and whole swagger."
Girls were in love with him, and he was pound for pound the best player in the NBA," he continued. "A.I. went from being my idol as a kid to being my brother in real life, so it's only right I pay homage."
Check out the "A.I. With The Braids" video up above.