Daniel Bambaata Marley Describes How He's Doing Things On His Own Regardless Of What Anyone Thinks
The Jamaican-born artist details family pressure, his yearning to create his own way, and the initiatives outside of music he's very excited about.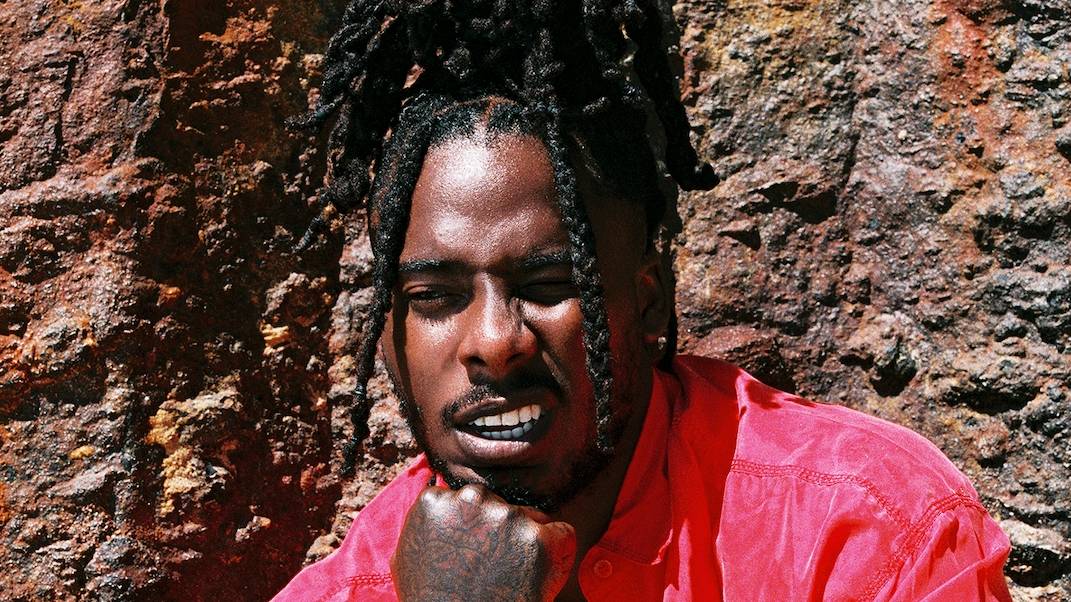 Daniel "Bam" Marley's musical career trajectory is one of many twists and turns.
The Kingston, Jamaica native, who's lived in California for years now, has recorded a lot of music – even from a young age, but most of it has never been released for one reason or another. It's something he's well aware of, but to him, his whole musical legacy is shrouded in process and the way he ultimately wants to present it.
The eldest son of Ziggy Marley and grandson of Bob Marley is slated to release his first song in years with "DWYD", which is accompanied by a visual directed by his sister Justice. In the song, Marley describes the pain, often inflicted by the people closest to him, that he's had to hold onto through the years and the desire to let it all go.
Bam Marley spoke to BET.com about the soon-to-be-released new track and video, and how it's been a long time coming for him to even get to the point of releasing it.
"The song was written about six years ago. I remember where the energies came from, kind of just me and my guitar, what is going through my mind," he describes. "I really tend to sit down and play my guitar a lot, and then whatever comes out, I always voice note it and so happens, that's what came out. I didn't sit down and write, it wasn't premeditated, I thought it was just a matter of how I was feeling in that time, and found some chords that evoke those words, and those words are pretty much how I felt."
A lot of the emotion, Marley admits, comes from his own famous family lineage and the struggle between pleasing them musically, and the reality of putting out something that truly speaks to himself and his fans. It's been a butting-heads of sorts over the years for everyone involved. According to Bam, his family has urged him to continue their legacy of legendary Reggae, rather than the more acoustic and melodic style he's created over the last decade.
"Everyone was weary of like, 'Yo, how can we be involved with this when it's so different than what we do?' And it was kind of like that growing up where I was always making the different music," he says. "I was always the one that he's making something else. Verbally, I've had them say, 'Oh, we don't really know what to do with this music. Why don't you make reggae music so that we can help you?' I would never do something that doesn't speak to my soul."
He adds: "I love Reggae, I grew up with it. My grandfather and me have a close tie. I've never met him but through his music, I've learned a lot about him. We all can look up YouTube videos and things like that's how I know him. I haven't really heard too many family stories about him, so I know him very much the same and I kind of look up to him the same. Even though I'm related to him it's still that mystique where I don't actually know anything personal, I just know what I have."
Marley also notes that he has tried his hand at reggae, which he very much enjoys, but says it's not the first musical genre that comes to his heart when he creates. In 2009, Bam released his first reggae song "Live it Inna Fear". Produced by his uncle Damien Marley, the song was one of numerous family collaborative affairs, which also included "My Girl", a song he worked on with his cousin, Jo Mersa Marley, along with other singles that helped launch his career under the Ghetto Youths International record label owned by the Marley family.
"I released a few reggae songs because no one would release my other music," he explains. "And the reason those came out is because that was the only way I could get music out – was to write Reggae.
"Over the years that's why the other records [are] not out or why have I taken so long to release a project or release all these songs that I'm sitting on," Bam continues. "It's kind of based on that a little bit, where it's like, Damn, y'all ain't f****n with me? G*d***n, but it's really good and I believe in myself."
Daniel Marley's attempts to release music at his own discretion has also taken hits outside of his family ties. Just months before the COVID-19 pandemic hit the world, he released a project called M.E.S.A., an abbreviation for Make Everyone Smile Again. But as the pandemic began ravaging thousands of people in March and April of 2020, mixed with the national racial reckoning of George Floyd's death in May, Marley said he had to take it down off DSPs because of the unfortunate timing.
"When I wrote that album, it was a fun album. It was N.E.R.D.-esk – a lot of that vibe, just like upbeat, trying to just keep people very happy," he describes. "And then we have George Floyd, all these things going on, the world changed and my energy changed too. So I was like I can't do this to my people – act like everything is all good. No, it's not.
"It's almost like these are your emotions, these are your feelings and sometimes you tend to hold on to them because they are precious to you," Bam adds about how personal releasing music is to him. "Then it became that me holding on to them was me keeping those feelings inside of my actual self. So in learning about myself and just growth, and then the connection that I have with my music and the source, is like if I don't release my music I'm gonna continue holding on to whatever these things are. In order to let go of certain things, it's in my songs I have to let it go."
And it's not like Marley hasn't been putting out anything in the way of music. Between 2012 and 2020, he released songs sporadically under his own fruition, including 2015's "Waiting for the War", which won a Telly Award for "Best Online Music Video" and for "Craft-Directing Video". The artwork for the single is a re-creation of his grandfather's Soul Rebels album cover released by Bob Marley & The Wailers in 1970.
Aside from that, Bam has also been featured in numerous other artist's work, including Lorine Chia's "The Reason" (2018), Iconika's "Eyes Wide Shut" (2020), and perhaps most memorably, The Internet's "Get Away" as a writer and "Just Sayin" / "I Tried" as a producer from their landmark 2015 LP Ego Death. He says his connection to the latter comes from his personal and family relationship with Syd.
"Syd's uncle is a big producer in Jamaica. He used to produce for my family as well," Marley notes. "Other than that he's just well known in Jamaica. When I moved here to L.A., Syd's cousin was like, 'Yo, I need to meet my family.' I didn't know Syd yet, and we met and we just got along really well like her mom, her dad, Taco.
"It was never about making music," he adds. "It was just like, where here, we're vibin' and then I had some chords on the guitar and I said, Yo Syd, I got some chords for you. And she was like, 'Oh, come through, let's lace it,' and we laced it up."
As far as process goes, Daniel Marley explains that the music comes first when attempting to create it, then the ideas flow soon afterward.
"If I sit with the guitar in the morning time, usually those things come smooth. I wouldn't have to change much and it's just about re-recording it and I'll just play and I'll sing for like 15 minutes and then chop it up and find a song within that," he describes. "It's just a blessing because I'm playing and the energies just come in and then I'm just letting it out. So that's why I've learned to record myself every time I pick my guitar up just because I don't want to miss anything."
Moving into 2023, Bam Marley has a couple of passion projects he's gearing up for. An avid soccer fan, and in lieu of the excitement around the recently concluded World Cup, he's looking to make the sport much more popular in the United States, particularly Los Angeles where he currently resides. His plan is to spearhead activations in the city to bring the sport to communities where it hadn't previously been popular and to "open their eyes and create more places for the youth to go." Additionally, Bam's also looking to use his fashion connections to promote his own line of pieces via Akomplice and Umbro to further promote futból in America.
Musically, 2023 is also slated to be a changing year for Marley, and it's something he's doing in the spirit of his religion and his legendary grandfather.
"One of the messages [Bob Marley] left with me was that you have to be yourself and do what you feel and do what you love," he explains. "Even in Rastafari, in the spiritual sense, it's like that was the whole key of the thing is like, be you, don't be anybody else, don't let anybody create a person that you have to be."
That creation is in the form of an album called Time Never Fails, which Bam plans to release next year. He explains that it is a mixture of dancehall, hip-hop and r&b that has already been turned into Alternative Distribution Alliance (ADA).
"This project is kind of stating the obvious like as much time has passed, it's not gonna fail," he says. "So I'm using that project to kind of open up people's eyes into why I've taken so long to release something and what it means to now start this journey, fully diving into the career and making sure that once we press go this time, we're not stopping."